Captain Gray, Master of the Paddle Steamers
From the collection
Scrapbook of Captain Harry Gray: Master of the Paddle Steamers PS Hygeia and PS Weeroona
Captain Gray kept a scrapbook of newspaper clippings of various shipping events and stories on Port Phillip Bay from 1888 to 1976 which was donated to the PMHPS by Joyce Gray of Swallow St in 2004. The clippings include newspaper articles which feature Captain Gray and the scrapping of the Hygeia off Port Phillip Heads and airmen being rescued by the Weeroona.
Captain Gray's family pasted his death notice into the scrapbook in 1981.
The Society also holds photocopies of Captain Gray's handwritten memories of his life written in his 90th year.
 'When I look back on the good old days when you could enjoy a full day on Port Phillip Bay for 2/6 from 9am to 7pm and breath the tangy salt air. When you could move around with freedom of movement enjoy dancing music and every convenience on board, meet plenty of good friends…'  Memories of Captain George Harry Gray
Captain Gray joined the Hygeia as an Ordinary Seaman in 1907 and at the age of 36 was made Master and served for 7 years. He transferred to the Weeroona and was the last Master of the Weeroona when she sailed on her final voyage on the bay on 2nd March 1942.
 The Hygeia (1890 –1931) and the Weeroona (1910-1942) were two of the largest and most famous of the purpose built excursion paddle steamers, which sailed down the bay from Port Melbourne to Sorrento, Queenscliff, Portarlington and Geelong. Both built in Scotland they operated everyday in the summer carrying nearly 2,000 passengers each voyage. They were popular for day trips, with holidaymakers and trade picnics 
' Butchers, bakers, confectioners and others had their picnics down the bay to Sorrento. There were also moonlight trips run by 3DB with dancing, community singing  … bar and meals' Sylvia Gleeson They can Carry Me Out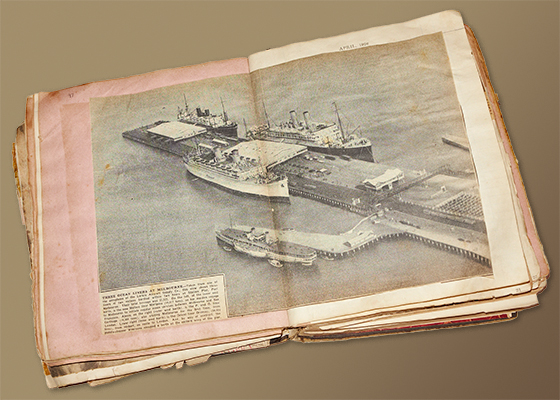 References
Fitchett, T. K. 1973 Down the Bay: the Story of the Excursion Steamers of Port Phillip. Adelaide, Rigby
Gray, G 1978 Photocopies of memories 
They Can Carry Me Out: Memories of Port Melbourne: as Recorded by the Vintage Port: Worth Preserving Project.1991 Vintage Port: Worth Preserving Project. Port Melbourne