Dunlop wins the Melbourne Cup
In a scrapbook in the Swallow & Ariell archive is a page of reminiscences about the 'old' days in Port Melbourne which includes a reference to the Melbourne Cup.
 'old residents will remember the (navy) volunteers, led by Captain Swallow. We used to follow them around the streets, the band playing current tunes "Back Harry". Moore, who died a few years ago aged 105, beat the big drum. The band master was Dick Donovan, who in a subsequent year won the Melbourne Cup with Dunlop.'  Age 9 2 1935
The Melbourne Cup public holiday was officially introduced in 1873. Dunlop won the Cup in 1887.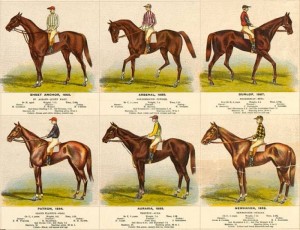 Here is another reference to Donovan:
 'Dick Donovan, who won the Melbourne Cup of 1887 with Dunlop, beating Silvermine and Australian Peer, and who cleared £6,000 pounds has gone up a tree, or in other words, filed his shovel in Melbourne. Donovan went broke not over horse racing but the universally destructive land boom, which swallowed up his racecourse winnings to a farthing. It has transpired that Donovan was a liberal hearted fellow over his big win, and parted handsomely to those who had assisted him to take the Melbourne Cup with Dunlop. He gave his jockey £1,500 and his trainer £1,000, which proves that a sporting man is not the least liberal of his kind.' Barrier Miner Tuesday 4 November 1890
It sounds like there is more of a story to tell about Dick Donovan and his connection to Port if someone is willing to do the research.