Allan Whittaker Commemoration 2014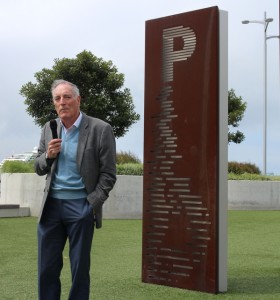 Reflections on 'entitlement'
Here is a transcript of Frank Vincent's address to those gathered to remember the life and times of Allan Whittaker, shot by police at Hogans Flat, close to Princes Pier on 2 November 1928. He died on Australia Day 1929.
'There is a tendency to talk about Allan Whittaker and the period that he represents with nostalgia and as a matter of history.
I'm a little more interested in its current relevance.
Martin Foley provided a term that I had not employed previously and it was 'institutional decency' – the notion that as a society we have some obligations to each other, obligations and understandings that have been fought for very hard over a long period of time.
These mutual obligations are not the kind of obligations that governments tend to speak about today, but the relationships that exist between us as decent human beings. And the most significant comment that was made in relation to those obligations was by Joe Hockey not very long ago. He provided the key to what is being really advanced at the present time.
He said the age of entitlement is over.  But what does that mean? What entitlement and who were these people who were claiming to have these entitlements?
People like Whittaker had no entitlement.  They had no jobs. They had no money. They were literally starving.
When Whittaker was admitted to hospital he was described as a malnourished male. He didn't die directly of the bullet wound that was inflicted upon him but as a result of the septicemia that came because his teeth were all rotten.  He had no resistance. He was a very poor man.
He had no entitlements.
But what was being fought for during that period and what we have as the real legacy is the development of a relatively decent society in which we did have entitlements. In which we regarded entitlement to education, to access to employment, to reasonable conditions when we reach old age, to entitlements to have some opportunity for decent housing and conditions that we would expect of a civilised society at this stage of human development to be able to provide.
They are the very entitlements that are currently under threat.
What we are currently seeing is a very serious shift to move us back to the time of Whittaker –  back to the situation where conditions can be easily taken away from people. Where individuals are being obliged to compete against each other – not using the collective power as unionists or indeed as voters to deal with matters – but as a result of manipulation and manufacture, isolated from each other.
That we cannot accept. That is the true message that has emerged out of the struggles of the past.
And the struggle in which we are currently engaged is no different at all."