When Mad Max Came to Port Melbourne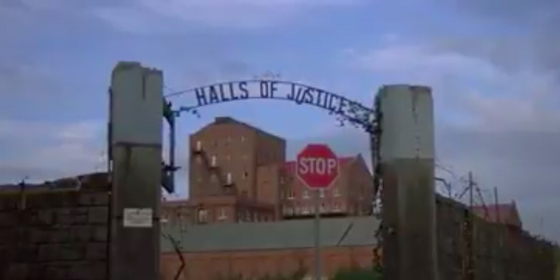 The recent release of Mad Max: Fury Road has us thinking back to 1979 when director, George Miller started the franchise with the film Mad Max.
That original film, telling the story of Main Force Patrol (MFP) policeman Max Rockatansky (Mel Gibson) battling against a violent motorcycle gang, was made on a shoestring budget in various locations around greater Melbourne including the pumping station at Spotswood (where Scienceworks is now) and the back roads of Little River where the You Yangs provide a distinctive backdrop.
Of specific interest to us though, is the location used for the Halls of Justice (pictured above) which many Port people will recognise as the former Harper's Starch Factory in Beach Street. It is much altered now as the Sandridge Bay Towers apartment complex.
The red brick buildings of Mad Max's Halls of Justice can just about be made out in this recent photo but they are very easy to identify on the right of the following photo of Harper's from the 1920s.