One of my favourite words is accrete – the way things gather together to create something bigger – the way the beach grows as sand drifts in a particular direction.
And that's what I love about local history. You start with a fragment, and then other fragments emerge and seem magnetically drawn to it. A picture emerges.
So it was with one name  – Todd.
With the recent completion of the Todd Road linear park and associated roadworks along the Port of Melbourne boundary, I realised how little I knew of Archie Todd after whom Todd Road is named.
Todd Road is a relatively late addition to Port Melbourne's road network, only formalised as recently as the 1970s.
Archibald Todd, known as Archie, served in the union movement and in local and state government. His life was dedicated to public service.
As a younger man Archie Todd lived in Station St at the Montague end. He worked as a wood machinist at Sharps timber which covered 15 acres between City Rd and Lorimer St.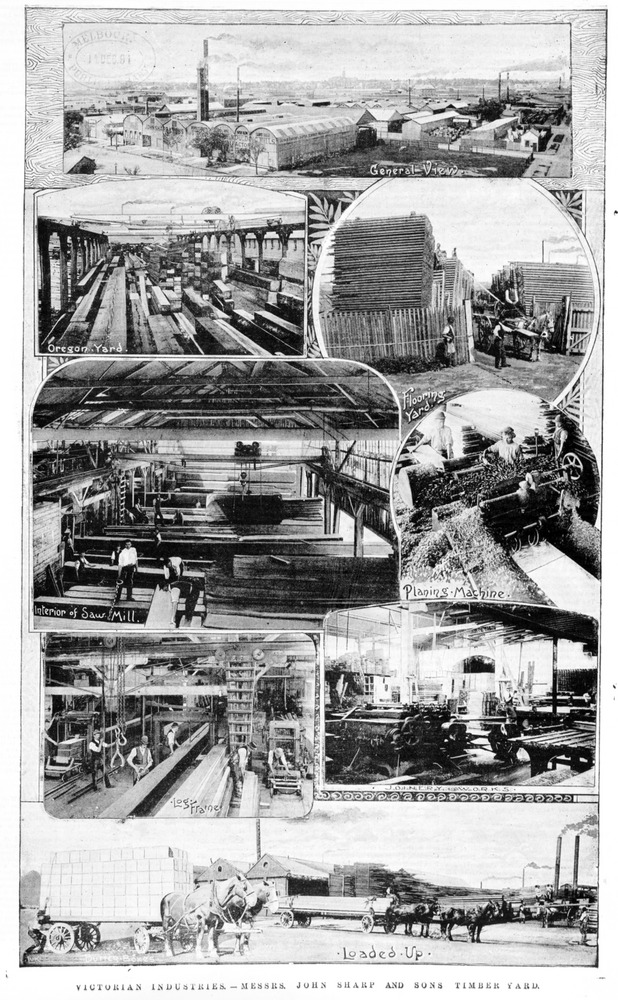 He was state president and federal  vice-president of the Timber Workers' Union. The range of occupations represented by the union included people working 'in sawmills, timber yards, box and case factories, saw makers' shops, joiners' workshops, car and waggon shops, and coach builders' shops, as well as those preparing woodwork for joiners, carpenters, implement makers, coach builders, car and waggon builders, and hewers, splitters, fellers, and all woodworking machinists'.
As a parliamentarian, his pursued his strong interests in housing, forestry and education. Housing and the welfare of young people were his focus as a Councillor.
There was a matter Archie Todd worked hard to resolve.
He had persistently advocated for the area between Barak Rd and Beacon Rd, formerly occupied by American storage sheds during the Second World War, to be cleared up and made available for housing. While providing exciting places for young people to hang out, the decaying sheds were a source of ongoing criticism to the Council.
The correspondence between Todd and the various state government departments over many years reveals a polite but growing frustration over their failure to make progress on the issue.
The possible route of a railway connection from the newly created river entrance dock was given as the reason why the land needed to be quarantined by the Port.
After almost a decade, the railway reservation was lifted from the land to enable the future construction of public housing.
The regard in which Todd was held by fellow parliamentarians is revealed in the speeches made when he died. Premier Hamer described him as' 'fair', 'completely trustworthy' and 'one of the finest men I have ever met'.  Mr Wilkes, opposition leader, noted his skill for debate and his willingness to fight for the causes he believed in.
His former neighbours remember him with respect.
Thanks to member of Born and Bred Port Melbourne for contributions to this piece. If you have further information to share, it would be great to hear from you to grow this story.
More
Archibald "Archie" Todd (11 April 1899 – 9 March 1981) served on Port Melbourne City Council from 1951 to 1962 and from 1972 to 1976, with three terms as mayor (1952–53, 1956–57, 1973–74). In 1955 he was elected to the Victorian Legislative Assembly. he served on Port Melbourne City Council from 1951 to 1962 and from 1972 to 1976, with three terms as mayor (1952–53, 1956–57, 1973–74). In 1955 he was elected to the Victorian Legislative Assembly for Port Melbourne.  With his seat's abolition in 1958, he transferred to the Victorian Legislative Council, winning a seat in Melbourne West Province. He served until his retirement in 1970.  https://en.wikipedia.org/wiki/Archie_Todd accessed 3 July 2016
Archibald Todd http://www.parliament.vic.gov.au/re-member/details/1488-todd-archibald  accessed 3 July 2016
Archibald Todd, correspondence with various government departments (PMHPS)
Cycopaedia of Victoria 1903 quoted in an email from Anne Logan dated 7 December 2000 on RootWeb accessed 3 July 2016
Parliament of Victoria Death of the Honourable Archibald Todd
A  plaque in the entrance to the Port Melbourne Town Hall acknowledges Archibald Todd's service.