Mary Guise (nee Foy) writes:
The area around North Port Station, on the Evans Street side, was a real hive of activity in the 1950's and 1960's – especially the 1950's.
Early on week-day mornings, scores of people, mostly men, would appear from the subway under the railway line (now gone) having caught the Port Melbourne train from the city. They would then literally swarm across Evans Street, continue down Raglan Street to Williamstown Road, where they would make their way on foot to the many factories in the area.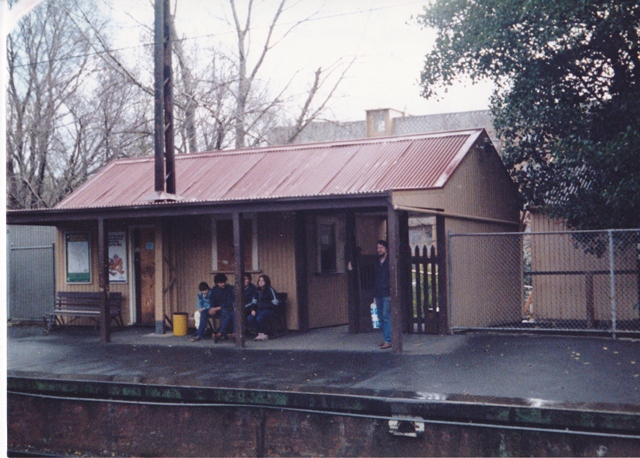 Weekends were somewhat quieter – except when the Port Melbourne team were at home. If Port  was playing Willamstown, their great rivals, there would be a huge number of Williamstown supporters arriving at North Port Station. We always hoped they would leave looking deflated. I can still remember the roar of the crowd during those games.
There was a red telephone box quite close to the station, near the big tree, which was used very frequently day and night. There would sometimes be one or two people sitting on the low stone wall waiting their turn. Occasionally while using the phone, there would be a polite or sometimes a not so polite knock on the glass door to let you know your time was up! Home phones were  rare then but became more common in the 1960's.
The railway reserves, or 'Rockeries' as they were known, were well used by the local children. Boys climbed trees, played football or cricket while the girls played hide and seek, made daisy chains or just sat on the grass and talked.
During the 1950's, trains packed with newly arrived migrants would regularly pass through North Port Station on their way to Melbourne from Station Pier. As the trains passed by, men who appeared well dressed, some probably in their best suits and most wearing ties, would lean out of the carriage windows, smiling and waving their hands and hats. Children living nearby always waved back at these total strangers.
We were too young at the time to understand the mixed emotions they must have had on leaving their homelands and loved ones. Looking back, I like to think we played a small part in welcoming these "New Australians" to our country.
The Albion was a popular pub, particularly with men of my father's age, many of whom had served in the 2nd World War. I think it was a place where they could relax and talk about things such as sport, their families and their jobs.
On the opposite corner to The Albion Hotel, was an old building with a veranda, containing two shops, both facing Evans Street. The one closest to Raglan Street was a grocery shop run by an Italian couple. The other was a milk bar, complete with pin-ball machine, run by a relative of theirs. He was a very friendly man affectionately known as 'Fuzz' because of his curly hair. As well as having a great  selection of lollies, Fuzz kept an old black phone under the lolly counter which customers could ask to use for a small fee. There was no privacy, so phone calls were mostly kept as short as possible. The milk bar was a meeting place for 'Bodgies and Widgies' (1950's teenage rockers) who would stand outside drinking their milkshakes. The grocery shop closed down some time in the 1950's. The milk bar remained open until forced to close in about 1962.
Prior to the housing commission flats being built in Evans Street, there were five or six houses plus the shops on the corner and six or seven houses in Ross Street. A lane ran between the backs of the houses. Behind one of the houses in Ross Street was a stable where a council horse was kept. On Saturdays, an SP bookie would set up shop at the far end of the lane next to an open back gate through which he could disappear if he needed to! This might sound a bit sinister – it wasn't. I remember people laughing, chatting and catching up with neighbours. Apart from having a bet or two, it was an opportunity for people to socialise.
Changing use of the train
Before my family had a car, the four of us would travel by train to visit relatives in other suburbs. My younger brother and I had 16 cousins so as children we always looked forward to those outings. My parents hardly used the train at all once they owned a car. My father worked in Port Melbourne all his life and my mother caught the bus in Bay Street when she worked in South Melbourne and later walked to work in Port. My brother used the train to go to secondary college in East St Kilda and then later to the city when he started work. He would also go out on weekends with his friends on the train. Of course, once he bought a car, train travel was out for him.
When I was very young, my maternal grandmother would take me into 'town', as she called it, by train. A few years later, my mother and I would travel into the city to go shopping or more often to the 'pictures' which I loved doing. After leaving school, I used the train to first attend a city business college then I worked in the city for several years. My girlfriend and I would travel by train to go shopping in the city and also to go to the various  music venues that were in Melbourne during the mid to late 60's. In later years because I didn't drive, I was the only one in my family using the train. I continued to do so until I left Port Melbourne in 1972.
Living opposite North Port Station had been so convenient. After returning from living overseas, I was sorry to find the station buildings had been demolished but I was glad that the line to Port Melbourne still existed.
After writing this, it occurred to me, I may have been the last member of four generations of my family to have made that same train journey into Melbourne from North Port Station.