A Kerosene Ship in Flames
The Hilaria, a 1,500 ton two-masted ship from New York caught fire at Town Pier on the morning of the 7th July 1895.
Earlier it had been ordered to an outer anchorage away from the pier as its manifest included a case of detonators as well as the usual general cargo including kerosene, rosin and other flammable materials.  The Captain had no knowledge of the detonators and since they could not be found he returned the Hilaria to the pier where the detonators were discovered as other cargo was being unloaded.  When the fire broke out only three tiers of kerosene remained in the hold.
The fire brigade were called and five steamers, five hose-carts and 37 firemen attended.  Although flames were leaping through one of the cargo hatches, it was difficult to locate the fire until deputy chief officer O'Brien, wearing a smoke jacket, was lowered through the other hatch.  O'Brien quickly located the source of the fire and it was soon under control.
The Hilaria's sister ship, the Habitant, was all but destroyed in a fire with berthed at South Wharf during June the previous year while in January, 1895 there was a fire on the Italian ship Savoia also at South Wharf  meaning there had been three fires in kerosene-laden ships in Melbourne within 13 months.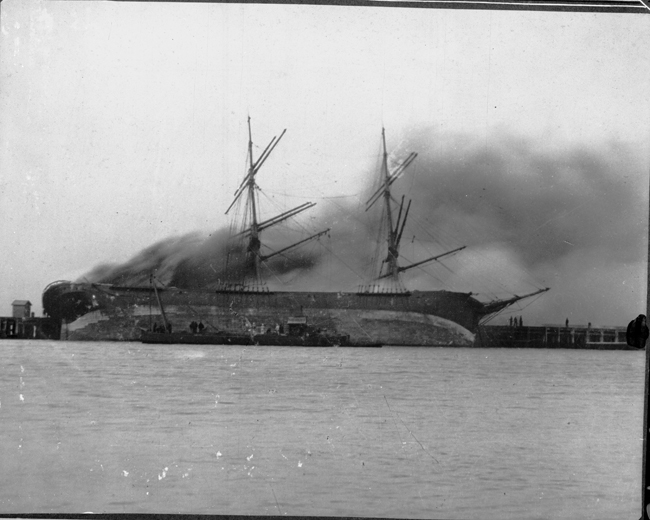 References & Further Reading
"A SENSATIONAL FIRE." The Argus (Melbourne, Vic. : 1848 – 1957) 8 Jul 1895: 5. Web. 3 Jul 2014 <http://nla.gov.au/nla.news-article9365539>.