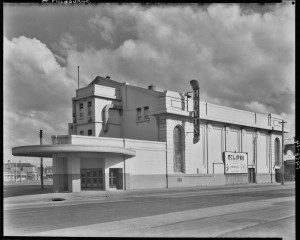 The Hoyt's Eclipse Theatre in Port Melbourne almost missed its silver anniversary according to an article in the Argus newspaper from 1949.
The story goes, a woman living in the neighbourhood found a newspaper from November 1924 under her lino that described the opening of "new and modern movie house".  She passed the paper onto the manager in time for him to organise a gala week to celebrate the milestone.
It was noted in the Argus that three of the ushers, Ernest and Richard Kulken (brothers) and Thomas Diggerson had worked at the Eclipse for all of its 25 years up to that point.
The Eclipse is now long closed and a Seven Eleven convenience store occupies the site where it once stood.
Reference
1949 'Clue gave cinema gala week.', The Argus (Melbourne, Vic. : 1848 – 1957), 28 November, p. 18, viewed 24 February, 2014, http://nla.gov.au/nla.news-article22794728