Margaret Bride
Emery Street is one of the shortest streets in Port Melbourne. It runs between Williamstown Road south to Edwards Avenue opposite Letts Reserve, Garden City. It is named in honour of George Emery, General Manager of the State Savings Bank of Victoria from 1897 to 1929.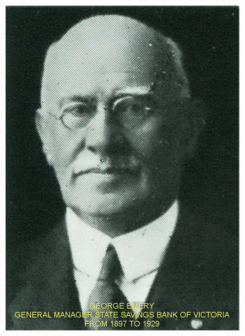 Bankers are not often seen to be people of imagination but Emery was certainly a man with the imagination to see how a process that was in use elsewhere might be adapted to improve the lives of his fellow Victorians. When the farming communities in Victoria were suffering great hardship from the combined effects of prolonged drought and an inflexible loan system he read about the credit foncier system of loans then in use in Austria. He at once saw its benefit to Victorian farmers and worked to enable it to be introduced through a dedicated department of the State Savings Bank. Later he persuaded the bank governors to extend it to home loans thus encouraging many families into a home ownership they could otherwise never have aspired to.
Similarly the idea of using the waste land of Fisherman's Bend for housing was not new but he saw the potential of using this land to build an Australian garden city along similar lines to those being built in England. As a result of his persistence the Victorian Government and the SSB cooperated to build our Garden City here in Port Melbourne.
References
The Story of the State Savings Bank 0f Victoria 1842-1966
Dictionary of National Biography