Biscuits in boxes, butter in pats
Judi Groves (Rose) writes about her grandfather 'R.T.' Rose (Roland Thomas)
My grandfather – or 'R.T.' as he was commonly known – owned the licensed grocer at 168 Ross Street.
He was born in Brunswick in March 1893 and signed up for World War 1 in July 1915.  At the time he was a carpenter living at 105 Graham St.  He served on the Western Front in the 4th Motor Transport Company.
On his return, he and his wife Hilda Annie Rose, acquired the shop at 168 Ross Street.  It's unsure whether it had previously been a grocer's or R.T. made it so.
The shop sold biscuits in boxes, bacon and cheese sliced to specifications, butter in pats and sugar scooped into brown paper bags.
R.T. died on 13th April 1935 from an automobile accident on the corner of Graham and Ross Streets when he was 42 years old.*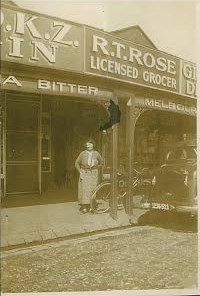 His son Bill (Frank William) left school at the age of 14 to help Hilda run the shop. Bill joined up for World War 2 in 1941, served in New Guinea and was discharged in 1946.  During that period Hilda ran the shop with the assistance of her sister Sadie.
On his return from active service Bill ran the shop, including a home delivery service.  Beer was sold in long neck bottles which were carried by the dozen on the shoulder.  Flagons of port were donated to the local religious establishments, which were then watered down for alter wine.  As there was no alcohol allowed to be sold on Sunday but at a certain time and with a certain knock supplies could be purchased 'under the counter'.
One of the advantages of having the shop was its location opposite the fish and chip shop which was home to the famous 'mashed potato cake'.
In 1975, Bill sold the shop and donated a billiard table located in the residence to the Port Melbourne RSL.   The new owners turned the property into a hardware store until the business closed some years ago.
* as reported in the Argus 15 04 1935
For more about Ross St, see