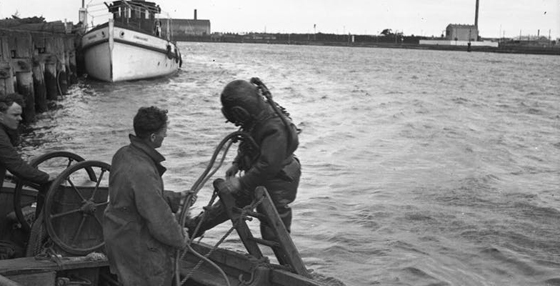 More than 1600 negatives collected by J B O Hosking, Melbourne Harbour Trust Chief Engineer from 1936 to 1959, have been painstakingly indexed and digitised by Public Record Office Victoria volunteers.
The black and white images depict Port of Melbourne facilities and activities including many of those overseen by Mr Hosking himself such as the development of Appleton Dock, operation of the Yarraville fuel terminals and the evolution of the Williamstown and Port Melbourne wharfs in a changing landscape.
Time and Tide – The presence of J B O Hosking: A photographic exhibition will be launched on Saturday 25 May 2019 to coincide with National Volunteer Week. Bookings for the launch are essential via eventbrite.
The exhibition will then run until September 2019, Monday to Friday between 10.00am to 4.30pm and the second and last Saturday of every month.