Decorative Eaves on Workers' Cottages
A constant delight of Port Melbourne is the avenues of workers cottages built during the real estate boom of the late Victorian era. Yet there is much more to these small wooden homes with their pretty iron lacework than first meets the eye. If you look up at the eaves between the main roof structure and the curved veranda roof you will discover some interesting architectural detail.
It is especially interesting to observe the variety of decorative patterns that adorn the eaves of narrow, single fronted cottages. Some designs are very simple with just a series of curved eave brackets as shown below.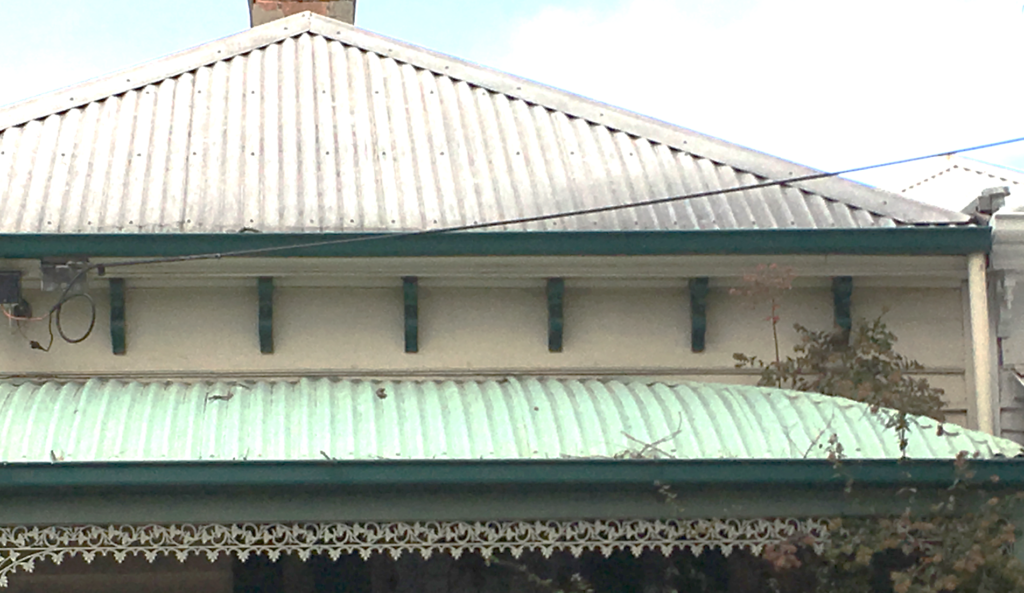 More typically, the brackets are clustered to define a series of horizontal spaces decorated by ridged wooden panels. In some instances the small spaces between the brackets also feature wooden decorations.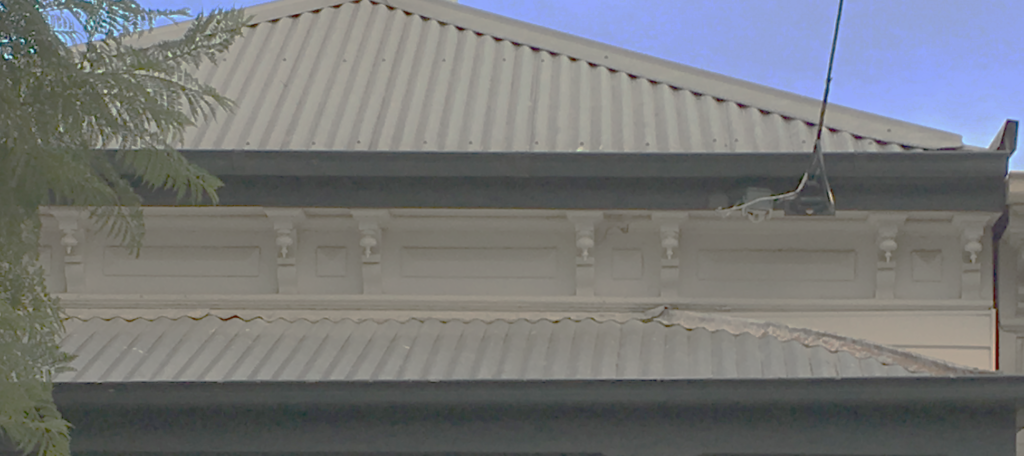 In some instances the spaces between the brackets are adorned with various decorative shapes, mostly cast iron. Sometimes the long spaces in the eave have cast iron decorations rather than ridged wooden panels.

These distinctive architectural details may be a clue to the builder of the house; perhaps a signature feature. Near where Esplanade East and Spring St East intersect, there are a number of houses built by Thomas Martin – all of which feature a distinctive eight-pointed casting between the brackets on their eave.

Thomas William Martin was born in outer eastern London in 1856. At age 16 he was indentured for a period of three years as an apprentice shipwright on the Anglo Saxon. By the late 1870s he was living in Sandridge, and married Martha Norman of Liardet St in 1879 at the Wesleyan Parsonage in Emerald Hill. The young couple lived in Railway Place in the early 1880s and he worked as a carpenter.
The upper portion of the Salt Water Lagoon between Esplanade East and Esplanade West, Bridge St and Raglan St, was filled in and auctioned off as Crown Land in late 1883 and early 1884. Over the next few years most of blocks of land were split into smaller blocks, which were sold and resold and most of the houses in this precinct were constructed.
Sequentially, Thomas Martin bought a series of these small blocks, built houses and then sold them on. They moved into one of the single fronted cottages in Spring Street East but a year or so later moved down the street into a larger house. In 1887, Martha died aged 34 after a long and painful illness. Soon after Thomas moved to Kew where he continued as a successful house builder.
While the houses built by Thomas Martin in Spring St East and Esplanade East all have the distinctive eight-pointed decorative casting, it does not follow that all the houses he built had this feature nor that all houses with this decorative casting were built by him. Of course it is possible that other builders may have purchased this same casting from the foundry that produced this design.
I have since discovered a number of other houses scattered around Port and South Melbourne and at least one in Brighton with this same eave detail. So far, I have not managed to establish a direct link between these other properties and Thomas Martin. Doing so is not easy as records of building applications, much less plans for such modest cottages, are almost non-existent and tracking land ownership prior to building being constructed via land titles has limitations.
Nevertheless it is fascinating to wonder about the origins of the variety of decorative patterns and distinctive details on the eaves of even the most modest of cottages. What do these tell us about the builder?
So next time you are walking around Port Melbourne, take a moment and look up and admire the signature handiwork of those who helped shape our neighbourhood.
David Radcliffe