by Marlene Hegarty McPherson
At 10.30 AM on Easter Sunday 4th April 1920 the gasometer on the corner of Pickles Street and Graham Street Port Melbourne burst into flames. The flames were estimated at 130 ft (40 meters) high and 130ft (40 meters) in diameter. The heat was so intense it scorched buildings and people in the area, as iron pellets fell over the area. The flame was seen as far away as Hurstbridge 23 miles from the disaster.
My mother, Alice Mott, aged 14 at the time was walking along Liardet Street and was one of the people whose hair was scorched. On 5th April, The Argus newspaper reported the following injuries Mrs. STANLEY FOSTER, aged 27 years, and infant (June Foster, 61 Johnson street, Port Melbourne, burned on bodies and limbs, and shock. FREDERICK GREENWOOD, aged 16 years, 121 Pickles street, Port Melbourne, scorched on back of neck. GEORGE DUNN, aged 16 years, 144 Rouse street, Port Melbourne, scorched on back of neck, and shock. J. W. BENNETT, assistant superintendent at gasworks, burned on hands. REGINALD LONGDEN, 14 years of age, 44 Beaconsfield parade, Albert Park, gasworksemployee, burned on legs. JAMES PAGE:, 7 years of age, 10 Pickles street, South Melbourne, slightly burned on face and left leg. MAVIS McCORKELL, aged seven years, 33 Rouse street, Port Melbourne, slight burns on face, arms, and legs. Many others suffered burns and blisters. Others near the beach on Beaconsfield Parade ran into the water.
The damage was extensive. The gasometer was a mass of steel with the framework bent and twisted. Wooden structures with the facility were burned. Many houses in the area were scorched with paint peeling off the walls. Joshua Bros. distillery escaped serious damage as the force of the explosion went south of the facility. Much of the surrounding asphalt roads cracked. The Metropolitan Fire Brigade attended.
The cause of the blaze was thought to be a leak in the pipe which was filling the tank with gas from the North Melbourne gasometer. The leak caused the gas to be exposed to the air which caused a fire and that led to the fire transferring to the main gas storage. The damage was estimated at £50,000. A later inquiry found the corroded metal structure had contributed to the damage.
The gas was prevented from escaping by the piercing of the main pipe and a rubber bladder inserted to prevent further gas from escaping. The other end of the hose was placed into the shaft which was filled with water and finally combustion ceased and the valve could be closed.
Officials of the Metropolitan Gas Company assured the public there would be no shortage of gas as the facilities in St Kilda and Tooronga would continue supply.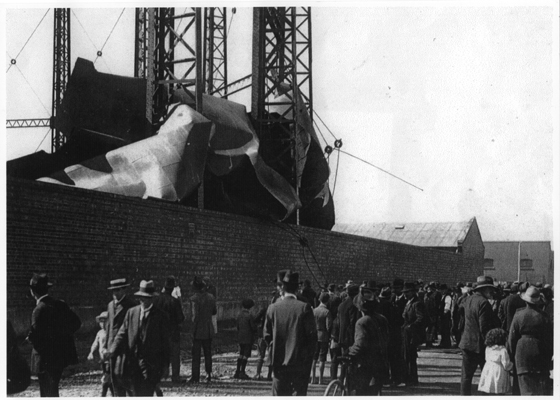 ---
References
The Age Newspaper 8th April 1920
The Argus Newspaper 5th April 1920
Western mail Newspaper 7th April 1920
1921 Victoria. Report of the board of inquiry into the gasholder at Port Melbourne. Port Melbourne Historical and Preservation Society. web site