There is no need to go looking on any 21st Century map for Bain Street, Port Melbourne, you won't find it.
Bain Street was gazetted on 27 July 1898 and as you can see from the map from around the 1950s (below), it was west of Swallow Street and it wasn't quite 100 years old when it succumbed during the development of Beacon Cove.
The street was named for Alexander Joseph Bain who was Mayor at the time having been elected to Council in August 1896, serving as Mayor August 1897 to August 1898 and finishing on Council in August 1899.
Bain was born in London and came to Australia with his parents. He set up business as a tailor, probably in Dandenong but by February 1886 he had also commenced business at 129 Graham Street, Port Melbourne. Before the end of that year he had moved to 205 Bay Street and later established his business at 295 Bay Street.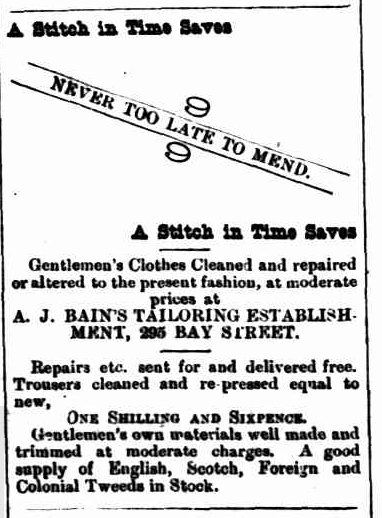 Bain was a prominent citizen serving as President of the Sandridge Branch of the Australian Natives' Association and on the School Board of Advice in the 1880s. He was also prominent in the running of the Dispensary Committee and the Port Melbourne Football and Bicycle Clubs. At times his shop (establishment) in Bay Street was used to receive nominations for the office-bearers and committee of PMFC.
A J Bain died in Traralgon on 29 December 1914 aged 51. It seems that the wealth from his business and properties in Port Melbourne had been badly affected by a fire and he had taken his tailoring business to Dandenong, Colac and finally Traralgon.
As a mark of respect for his passing the Port Melbourne Town Hall flag was flown at half mast.
---
References
U'Ren, N. and Turnbull, N., 1983. A History Of Port Melbourne. Melbourne: Oxford University Press.
Trove. 2020. Trove – Digitised Newspapers And More. [online] Available at: <https://trove.nla.gov.au/newspaper?q=> [Accessed 3 September 2020].