In the Society's April 2020 Newsletter, David Thompson relayed the story of the discovery that P A May of 137 Esplanade West, Port Melbourne appears in the Register of Entrants for the 1946 Easter Carnival at Stawell. The large registers are held at the Stawell Gift Hall of Fame and it was Wendy Hopwood from the Hall of Fame who uncovered the entry shown below.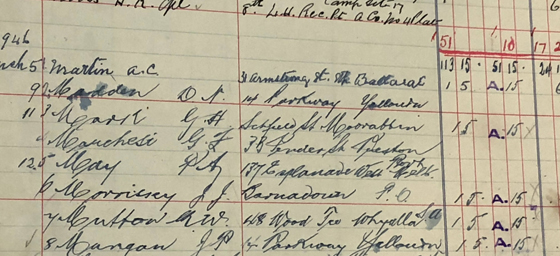 P A May did not run in the 1946 Stawell Gift. He ran in one of the many other races held over the carnival weekend – the 75 yard sprint handicap – and unfortunately did not make it past his heat.
Subsequent to this discovery we were able to establish that PMHPS Member, John May, is P A May's son and John has kindly put down some memories of his father's time as a runner.
---
Percy Allan May was a professional athlete.
In 1930 he won the Citizens of Port Melbourne Race over 75 yards.
Percy started his training in 1927 on the Port Melbourne Cricket Ground with his local coach, Lou Marrinier, and found the sprint training a great help to his football aspirations with the Port Melbourne Football Club and the Port Melbourne United Football Club.
Professional running was a tough sport, particularly in the '20s and '30s. Money was hard to come by and apart from winning the odd race, betting on winning a heat or semi final would be a boon to the hip pocket. Winning was never easy as all runners were in the same boat. There were many top-class athletes amongst the professionals, so competition was fierce.
One worthy of mention is Austin Robertson, the World Pro Sprint Champion and top-class Port Melbourne Footballer. Robertson was just one of many great runners.
Professional athletic events were held at a myriad of venues around Melbourne and Victoria, as well as interstate including the Motordrome, Maribyrnong, Bendigo, Stawell, Wangaratta, Blackburn, Port Melbourne Cricket Ground, South Melbourne Cricket Ground, Castlemaine and many others.
In professional races, runners are handicapped according to their form with the aim for all competitors to cross the finish line at the same time. The best runner, as determined by the handicapper, starts off 'scratch' with other runners getting a 1 metre, 2 metres, up to 10 metres or more advantage. Subterfuge was part of the game to keep in front of the handicapper and bookmakers with runners just doing enough in lead-up races to qualify for a big event without affecting their handicap or their odds.
One funny story occurred in one particular race when Percy mentioned to his mates that he could win his heat. In that case they were going to back him. He told them to watch him warming up and he would approach the fence near the bookmakers and if he went under the fence railing for a closer look, that was the sign to place the bet. As the time for his heat approached, Percy ducked under the fence for a closer look, so his mates placed their bets. He finished the race in third place and when he got back to his mates, they all chorused "Nice run Perc". He then admitted that he could have won, but didn't bother. "What?" they said. He replied with a red face that he had forgotten his own instructions.
---
Percy's running career finished in 1947 and although John, did not see him compete, he recalls seeing his father's running spikes in his Gladstone bag and now wishes he still had those spikes. His father was an out and out sprinter, 75 yards – 220 yards while John was a middle to long distance runner, 800 metres – marathon. He missed out on those fast twitch fibres.   More's the pity!
---