Now and Then 2021 – Bertie Street
Starward Distillery now produces whisky at 50 Bertie Street in a building where, previously, Malcolm Moore Industries fabricated large cranes.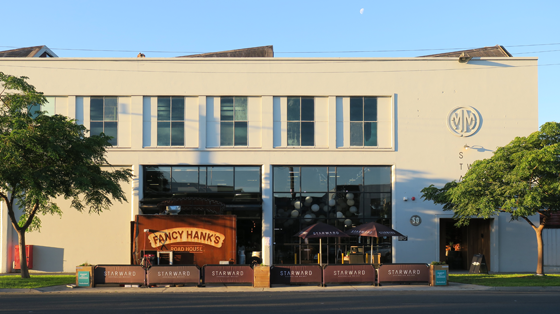 Bertie Street is named after Joseph (Joe) Bertie, a stevedore, World War One veteran, and long term Port Melbourne councillor who served as Mayor in 1943-44. At its intersection with Fennell Street, named after another long term councillor and five time mayor, Mel Fennell, the Egg Marketing Board established their new facility for grading eggs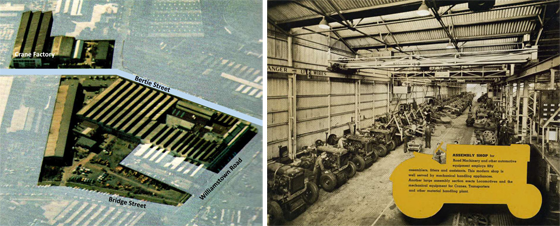 From 1927 until the mid-1980s, Malcolm Moore designed and made a variety of engineering plant and equipment at their Port Melbourne facilities. Their products included overhead and travelling cranes, conveyor systems, road making, earth-moving and mining machinery, mobile equipment, narrow gauge locomotives, farming implements, and power hydraulics used nationwide in ports, railways, gas works, construction, manufacturing, agriculture, forestry and mining. Bunnings now occupies the site of the main Malcolm Moore factory bounded by Bertie Street, Williamstown Road and Bridge Street.
The foundations for the long term success of the company were laid in large part by the contributions of two engineering innovators, Malcolm Moore & Albert Longoni. Moore had a strong business sense with an eye for improving existing equipment and a passion for production efficiency while Longoni was an early adopter of new fabrication techniques. The latter brought the European approach to engineering design and was adept at commissioning complex engineering facilities.
In 1902, in nearby Derham Street, Alfred Harman established the Port Melbourne Engineering Works specialising in steam powered winches, and later draglines and other excavators. Its premises also had an entrance on Williamstown Road across from the Malcolm Moore factory. During the 1930s, the firm became Alfred Harman and Sons and the foundry part of the business was spun off as Steel Castings Pty Ltd. In 1943, Steel Castings built facilities in Bertie Street, opposite the Malcolm Moore crane factory, which they supplied with castings during the post-war period. In 1972, the foundry in Derham Street closed down and all the operations of Steel Castings moved to Bertie Street. They closed down in 2004.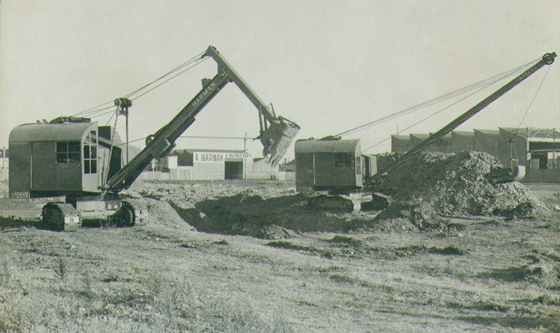 While heavy engineering manufacture of the type practiced by Malcolm Moore and Alfred Harman is no longer part of Port Melbourne, innovative enterprises of the 21st century including ones specialising in animatronics and environmental products have now appeared. Hopefully the grand vision for Fishermans Bend will foster many more creative businesses nearby that make things.
This article is based on one of the panels that formed the Now and Then Exhibition of the Port Melbourne Historical & Preservation Society in 2021. The original panel can be seen here.
Lagoon Reserve | Now and Then 2021 | Bridge Street Light Rail Crossing