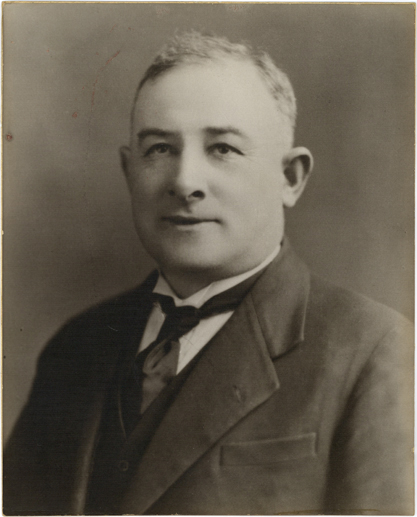 Bertie St is named after Joseph Bertie but he was always known as Joe.
Bertie's family originally came from Teglio in Italy near the border of Switzerland. Bertie was born in Bendigo in 1885. His father was killed in a mining accident there.
Bertie had been working as a stevedore in Port Melbourne for seven years before enlisting for the First World War on 1 July 1915. He was awarded a Military Medal for rescuing a mate under heavy shell fire. It is said that it was while he was in the trenches in France that his mind turned to schemes for giving employment to returned servicemen on the waterfront.
On his return he set up Port Phillip Returned Soldiers & Sailors Stevedoring, a forerunner to Strangs. He worked on the wharf for 30 years.
Bertie lived at 33 Nott St, close to the waterfront and to Roddas, a minerals processing firm located on the corner of Donaldson St and Beach St. He was also a prospector and self taught geologist. He knew the country between Kyneton and Bendigo very well and often went prospecting there for Roddas with his great nephews.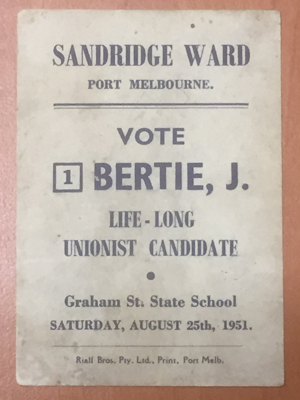 Bertie served on the Port Melbourne Council from 23 August 1934 to 25 August 1951 when he was defeated by Archie Todd in the Sandridge Ward. He was the Mayor in 1943 – 44.
There are numerous snippets in Trove that give small insights into Bertie's character and just one example is given here. Bertie argues for the closure of the rifle butts which cut across Fishermans Bend from Salmon St towards the yet to be named Bertie St.
Cr Bertie said "Explosives explode, and spent bullets are likely to kill at 3 miles."
He said the lives of sustenance workers at the place were in constant danger. The range was obsolete and should be removed.
Cr Bertie: "Explosives are made to explode. There is always danger from mugs who may be handling firearms. You've only got to get it once and you're done for ever." [1]
It seems that Bertie St was so named shortly after World War 11. The Egg Board opened its new premises on the corner of Fennell and Bertie St in 1947. From the 1950s through to the 1970s, Bertie St was a hive of heavy industry with the Malcolm Moore crane shop on one side of the street and Steel Castings on the other.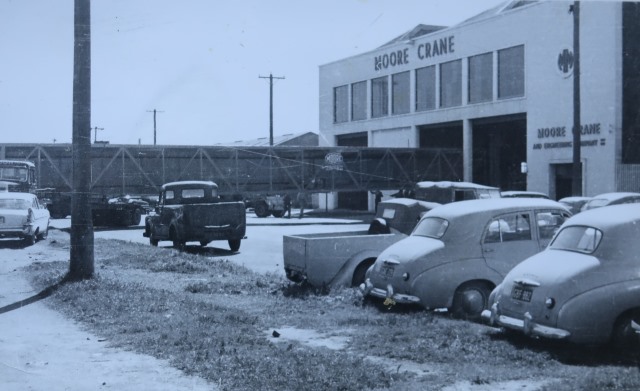 In 2020, Bertie St is still manufacturing – but very different products. A whiff of beer escapes from the Colonial Brewing Co opposite the former Egg Board while the Malcolm Moore crane shop has been re-purposed as the Starward Whisky Distillery.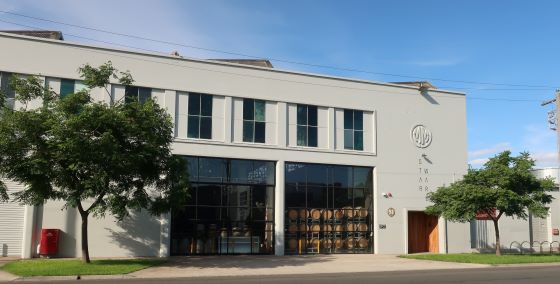 Thanks to Charles Tiger Lawson, great nephew of Joe Bertie, for his contribution to this piece.
Further contributions are always welcome.
[1] Port Melbourne Rifle Butts – Council Wants Them Removed, The Record 6 June 1936
Read Joe Bertie's war record at Port Melbourne First World War Centenary website.