Thomas O'Brien established the Prince Arthur Hotel on the corner of Nott and Spring Streets, opposite the Bowling Club, in 1870. That original structure was rebuilt in 1882 to a design by architect T J Crouch.
The Prince Arthur was among the ten Port hotels that were delicensed in 1915. For the next seventy years or so the building was used by various proprietors to sell confectionery including a time in the 1960s and/or 1970s when it was known as Seppi's Milk Bar.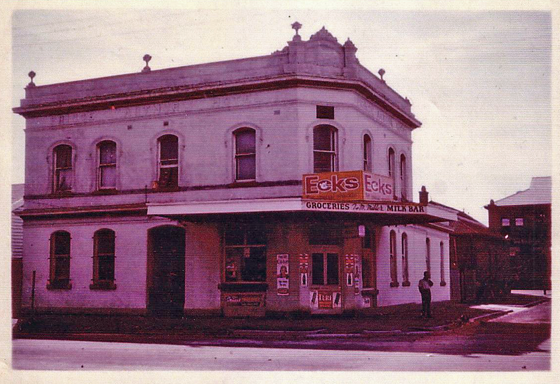 By the mid 1980s the building had been renovated and was operating as the Courtney Grubb graphic design studio. This was around the time that Arthur Rowan was photographing many of the old buildings in Port and South Melbourne including the former Prince Arthur Hotel.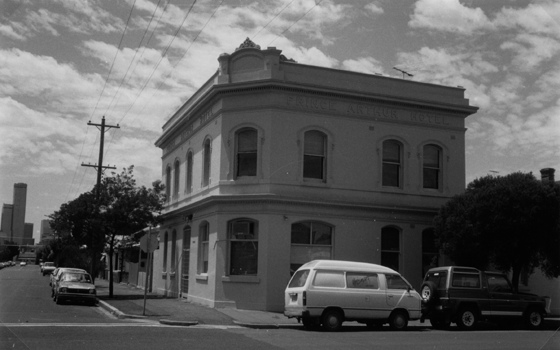 The external changes to the building are clear. The shop awning has been removed and the corner door has been converted into a window. The urns along the roofline have also been removed.
It is also interesting to note the changing streetscape. There are cars, for one thing. And trees that help to soften the hard edges of the old inner suburb. The high-rise buildings of Melbourne, in this case the Rialto towers, loom on the horizon.
Since the 1980s the building has become a stylish residence.
At the end of 2020, the old hotel still bears the name Prince Arthur Hotel but it has gained a date (1870). The trees have grown a little and we have new planting where the footpaths have been extended to define the parking areas in Nott and Spring Streets.
There are even more high-rise buildings on the horizon in the City, the surrounding suburbs and even within Port itself although that's not apparent in this picture.
The Prince Arthur Hotel plots how Port Melbourne has changed over the years. One of the many hotels established in the 19th Century, it hasn't operated as a pub for over a hundred years. For most of the 20th Century the focus of the building changed to selling sweets to the local children rather than beer to their fathers. As gentrification came to Port in the 1980s the building became home to the modern occupation of graphic design and now in the 21st Century is a well established residence.
---
Sources
Pat Grainger, Chartered Scoundrels: A brief history of Port Melbourne hotels, 2007
Sands & McDougal's Directories, State Library of Victoria, 1915-1974