Norma Barnett came to Port Melbourne in 1953 to work at the Melbourne City Mission. The Mission had been established a century earlier to give aid to the thousands of immigrants who had flocked to Victoria in the gold rush, failed to make their fortune and were stranded, destitute.
Just behind the Fountain Inn (now The Cornerstone) stood the Mission's 1906 Jubilee Hall. Here Norma – in her first decades known to the community as Sister Barnett – held Bible classes and religious services, fed the homeless, ran popular boys' and girls' clubs and looked after disadvantaged people in Port in whatever way she could. She organised hot breakfasts for dozens of homeless men to enjoy, once they'd heard her preach.
She rode her scooter around the streets of the Borough, helping children, teenagers, families and the homeless.
From her arrival until the Mission closed in 1967, she ran this centre with a firm hand, good humour and bottomless compassion.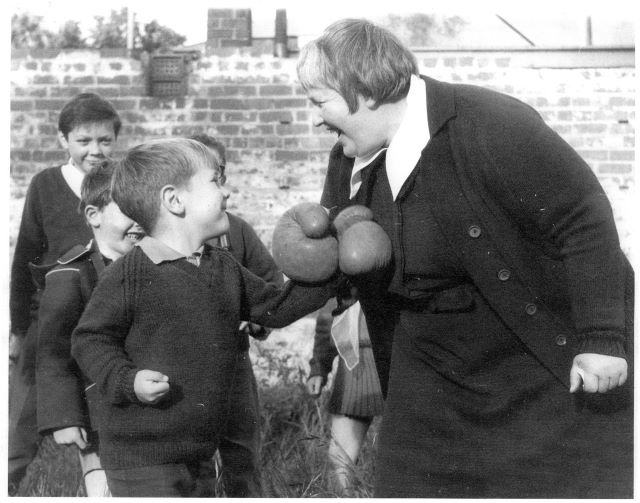 One of the many she befriended during the Jubilee Hall years was Janne Ray, a struggling mum who lived over the Railway line in narrow Alfred Street. Her elder son Paul, a member of the Mission's boys' club, gave Norma the family nickname 'Barney', because she was short and round, like the television character Barney Rubble.
Norma and Janne (pronounced Yanni) formed so close a friendship that they came to consider themselves as adopted sisters, with Norma as part of the Ray family.
Norma had a great sense of fun. She was an active, well-loved volunteer at the Port Melbourne Neighbourhood House where she would often ask 'How's the neighbourhood?' as if taking the pulse of the community. She served wisely on several community management committees and was a foundation member of the Port Melbourne Historical and Preservation Society. She was especially noted for her powerful talent as an entertainer, starring for years in spangles and sequins with the all inclusive theatrical troupe, City of Voices.
All that enthusiastic community guidance, volunteering and performance continued even after Norma was afflicated by Parkinson's Disease which caused increasing pain.
She had her own apartment in Tom Hills Court but as she grew weaker and neared the end of her life, Norma moved in with the Ray family where she could be looked after by Janne, her daughters Tracey and Jillian and sons Paul and Neil. Her many loving friends from the community came often to visit her bedside at Folly Cottage with good cheer and local news, until she died.
The fundamental purpose of naming a road is to enable people, but especially emergency services, to find it. Following a request to the City of Port Phillip to rename the lane between Raglan St and Davies St to Raglan Lane, and with several other Raglans already in the City, the Council took soundings from the Society, which put forward Norma Barnett's name. Following a decision by Port Phillip Council, it was gazetted on 3 August 2006.
The lane is a stone's throw, less than a 100 metres, from the Mission where Norma gave such great service to the Port Melbourne community.
Norma Barnett 1928 to 2 September 2002
Edited from the Port Melbourne Historical and Preservation Society Women of Port calendar 2021