Fennell Street and Fennell Reserve
David F Radcliffe
Fennell Street and Fennell Reserve are both located at the extremities of present day Port Melbourne. This is ironic given that Melville Henry Albert Fennell, after who these are both named, was at the centre of community life in Port Melbourne for over 40 years.
Fennell St runs between Bridge St and Boundary St, north of Williamstown Rd, adjacent to the West Gate Freeway. It is at the heart of the new Sandridge Precinct, slated to become "one of Melbourne's premium office and commercial centres, balanced with diverse housing and retail", part of the massive Fishermans Bend urban development.
Back in the 1950s, Red Tulip Easter Eggs were manufactured at 1 Fennell St (corner of Bridge St). Meanwhile, one block down the street, the Egg Marketing Board had established their new facility for grading real eggs, on the corner of Bertie St.
Today, the Colonial Brewing Company operates near this intersection, and down Bertie St, there is the Starward Distillery.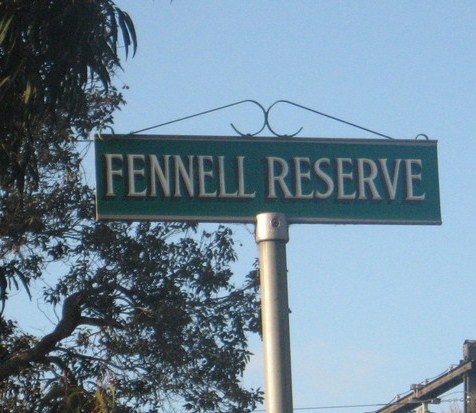 Fennell Reserve is on the northern side of the Port Melbourne light rail, between Ingles St and Boundary St. It is one of eight tree lined parklets situated on either side of the 109 tram route between Graham St and Boundary St. All are named after former mayors of Port Melbourne. Fennell Reserve abuts the Montague Precinct of Fishermans Bend, where many tower blocks are rising skyward.
Melville Fennell was a Port Melbourne councillor continuously from 1937 until 1974, serving as mayor on seven occasions: 1938-39, 1947-48, 1957-58; 1961-62; 1962-63; 1967-68 and 1970-71. Mel, as he was known, was a "local identity".1 Born in Launceston in 1894, his father was a seaman. By 1912, the family had relocated to South Melbourne.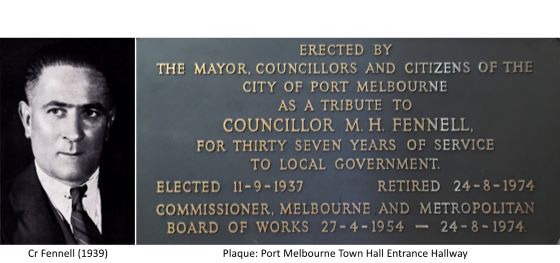 In 1917, Fennell married Violet Hodson, he was 23 and she was 21. He was a timber worker and after a couple of years in living in Brunswick they moved to Albert Park, first in Graham St and later Page St. They only had one child, a son, Melville Frederick Edgar, who was also a timber worker. By the early 1930s, they had moved to a 'bank house' on Williamstown Road where Mel lived for the next 40 years. He was a prominent member of the Garden City Progress Association.
By the time he joined the Council in 19372, Fennell had been a timber worker for 25 years and an office holder in the Timber Workers Union since 1926, including as a member of the executive that decided on the massive 1929 strike3. In 1935, he was appointed as one of the representatives for the timber workers on the Wages Board4.
When being welcomed to his first Council meeting, Fennell had to repudiate rumours that he was a communist. Apparently the local Communist Party had endorsed him although he was not a member, had not sought endorsement and in fact was opposed to them.
In terms of his approach to serving on the Council, he stated that, "… he was an old debater, and was governed by the principle that no harsh feeling should be engendered, even by the sharpest differences of opinion. If he considered it is duty he would not refrain from criticism at the Council Chamber; but he would not carry away any personal feelings of bias or resentment on account of differences."5 This accords with how he was remembered in his final years on the Council, in the 1970s, as being pleasant to work with, somewhat jolly, and having a sense of humour.6
During his first term as mayor, 1938-39, he was involved in preparations for the Port Melbourne Centenary Celebrations. He was appointed as a Probation Officer for the Children's Court in 19427 and as a magistrate in 1944.8
In 1952, Fennell was the early favourite9 to be pre-selected for the vacant Legislative Assembly seat of Port Melbourne. However he lost a seven-way competition for this safe seat to Stan Corrigan.10 Nevertheless he went on to serve the wider community as a commissioner on the Melbourne and Metropolitan Board of Works (MMBW) for 20 years from 1954.
His contributions to the local sporting fabric included being the President of the Port Melbourne Baseball Club for many years and an office holder in the Port Melbourne Cricket Club.
While Mel Fennell deserves recognition in the form of a street and a reserve, a strong case can be made for his wife, Violet, also being remembered in perpetuity. Born Violet Annie Isabell Hobson, in Footscray, her father was a labourer and the family moved frequently, from suburb to suburb.
In her forties, Violet was appointed by the Government as a Special Magistrate for the Children's Court in 1938.11 She carried out her duties "with enviable discretion, tact and sympathy".12 With support from Mel, she led efforts to provide support for victims of the Black Friday bushfires in January 1939. This included raising funds, helping find accommodation with Port Melbourne families for those impacted and seeking out local employment to support displaced families.13 She founded the auxiliary of the Lady Foster Kindergarten, and was a staunch supporter of the organisation.
While she had been in ill-health, her sudden death in 1949 came as a shock to her family, her friends and the community. The esteem in which she was held and the loss felt is evidenced by the number and variety of notes in the local papers and her substantial obituary. The Lady Foster Kindergarten honoured her memory by creating the Violet Fennell Memorial Library at the kindergarten in 1950.14
In 1952, Mel Fennell married Olive Fry, a women who had her share of struggles over the years. Like Mel she was originally from Launceston. Sadly Olive passed away four years later, so while Fennell went on to be mayor five more times, she did not get to be the Lady Mayoress. Melville passed away in 1975, aged 81.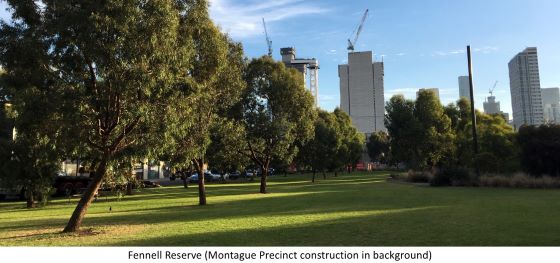 In coming years, Fennell Reserve will afford a welcome 'green space' for those who reside in the high rise towers of the phoenix-like Montague. And if the vision for the Sandridge Precinct is fully realised, Fennell Street will become a fashionable boulevard with trams and bikeways linking it to the CBD. As these two distinct neighbourhood gathering places find new purpose through urban renewal, they will remind us of the contributions to our community by both Melville and Violet Fennell.
---
1 Nancy U'Ren and Noel Turnbull, A History of Port Melbourne, Oxford University Press, Melbourne, 1983, p. 268.
2 1937 'Cr MH Fennell Welcomed', Record (Emerald Hill), 25 September, p 5
3 1952 'A Melbourne News Diary What Goes On?', The Argus (Melbourne), 9 February, p. 4.
4 1935 'Wages Board Appointments', The Age (Melbourne), 12 March, p. 15.
5 1937 'Cr MH Fennell Welcomed', Record (Emerald Hill), 25 September, p. 5.
6 G Cosham (Personal Correspondence, 17 February 2021).
7 1942 Victorian Government Gazette No. 286, September 9, p. 3261
8 1944 Victorian Government Gazette No. 35, March 8, p. 806.
9 1952 'A Melbourne News Diary What Goes On?', The Argus (Melbourne), 9 February, p. 4.
10 1952 'Son Wins Ballot For Father's Seat', The Argus (Melbourne), 18 February, p. 3.
11 1938 Victorian Government Gazette No 165, August 3, p. 2249.
12 1949 'Tragic Death of Former Port Melb Mayoress', Record (Emerald Hill), 26 February, p. 1.
13 1939 'Sufferers in Bush Fire Areas', Record (Emerald Hill), 11 March, p. 6.
14 1950 'Among the Auxiliaries', Record (Emerald Hill), 29 July, p. 6.