Movement at the Station (Pier)
From the PMHPS collection
A place of "Welcome and Farewell"  – Early settlers, cargo ships, soldiers going overseas to fight in the wars, new migrants and travellers embarking on an overseas holiday would throw coloured streamers to family, friends and departing soldiers on the pier.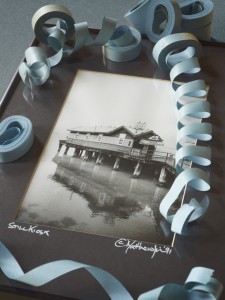 Station Pier was originally Railway Pier, built in 1854 to carry passengers and goods to and from Melbourne at the time of the gold rush
The Pier was rebuilt and renamed in the late 1920s with waiting sheds and kiosks on the winged arms on the eastern and western sides, to serve refreshments to the passengers waiting to board the paddle steamers, which sailed down the bay. The kiosks operated until the 1990s selling streamers, hot food, ice creams, drinks and souvenirs.
The Gleeson Family ran the  Eastern Kiosk from 1933 to 1971.
"Well, really, it was long hours – you had to be open before the stevedores started work, before seven, and in the summertime you'd be open until 1 or 2 in the morning, cause you had to make the money to pay for your rent during the winter, when there wasn't any customers, beachwise"   

"You always had a needle handy in the shop for the children who got splinters running up and down" Sylvia Gleeson "They Can Carry Me Out"
These streamers in the Society's collection come from the Gleeson's Eastern Kiosk.
References and further information
Anson, C 2014 "Rites of passage" The Age 24 January 2014
"They can carry me out'  Memories of Port Melbourne as recorded by the Vintage Port: Worth Preserving Project 1991,page 74-75
For a wonderful image of streamers, see the Australian War Memorial image 126772