Address by Ted Baillieu, chairman of the Anzac Centenary Commemoration Committee at the commemoration of the departure of the first convoy from Port Melbourne's piers on 19 October 2014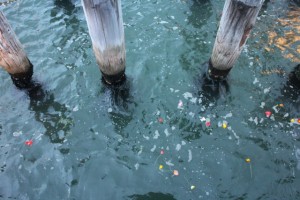 "This is the place
Where streamers were thrown to loved ones.
It was here that the cheers turned to tears.
It was here, where the warmth of the farewell turned into the chill of the deck for those on board as they departed.
The clock ticks on, but some things never ever change. And if you shut your eyes and pause for a moment you can still hear the sounds of a hundred years ago.
(Pause/silence)
A child, a seagull, the wind, the waves.  A hundred years ago you might have heard some sobbing.
The streamers behind us represent the connections that were broken here.
We've been seeking to encourage Victorians to reconnect through family, through place, though institutions, schools, churches, sporting groups, through occupations (and I thank Victoria Police for their presence here today), through  multicultural groups. Nearly every Victorian regardless of their background can find a thread of connection, a connection to our original Anzacs.
And in a moment we will step through the arches of the gatehouse to the end of Princes Pier. And out there, beyond the edge of the pier, there are a thousand remnant pylons, each in a way a ghostly sentinel from the past – each original.  Each represents more than one hundred original Anzacs from Victoria.
As you step out there, imagine those pylons spread  to the left and to the right fifty times as wide. That's how many Victorians left.
And as you step out there, see if you too can find a connection like a streamer, find a thread – perhaps one or more of those pylons –  keep that thread with you and pass it to your children and your grandchildren.
Thank you very much for being here, particular the descendants and those who found connection already.
Each Anzac Day there are more connections.  They are the personal, family and community and street by street connections that will last forever.
Children understand that much better than they understand sculptures and monuments and honour boards.
Those threads, those sounds, those memories of the past will  ensure that in a hundred years time we will be back again."
transcribed by Janet Bolitho