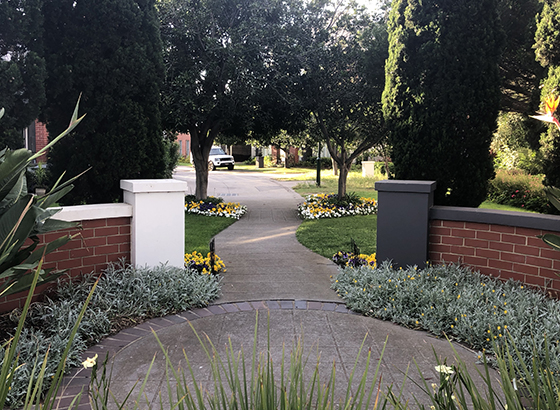 Ellinis Mews is a short residential street in Beacon Cove but I'm not sure where the connection with stables is other than in the developers' minds. To me it is a Court or what we would have called in Ireland a Close or, if we wanted to be fancy, a cul-de-sac. Although with the pedestrian access from Beacon Road (above) then perhaps these designations are incorrect also.
I do know a bit about the Ellinis though.
This week, 46 years ago, my family – parents, Frank and Audrey, my younger brother Allan and I – were waiting for a train at London's Waterloo station. We had a few suitcases with us each bearing a sticker with the diagonal white cross of Chandris Lines and a capital 'T' for our surname. We were headed to Southampton to board the SS Ellinis for Voyage 51 Southbound to Australia.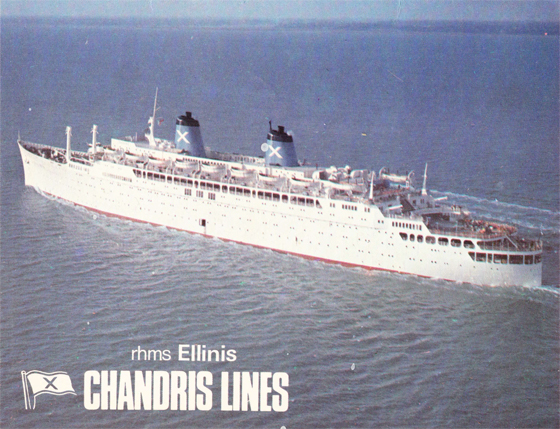 We left Southampton on the evening of 3 December 1974. Assisted migrants escaping 'the Troubles' of Northern Ireland for a new life in Melbourne. The voyage took almost a month stopping at Las Palmas, Cape Town and Fremantle before we disembarked at Port Melbourne.
There was lots to keep me and my brother occupied. We spent very little time with our parents. There was a big ship to explore and other children to meet. Children had separate meal times to adults and the entertainment was generally segregated as well with grown-up entertainment, slot machines and dancing or lounge music in the evening. There were free movies that changed every three days with kid's matinee sessions. We played games on deck such as shuffleboard and quoits. At the stern of the ship there was a sundeck with a swimming pool.
Apparently there was a school on board. I do not remember a single thing about the sixteen days I am certified as attending the school. Surely we didn't go to school on Christmas Day!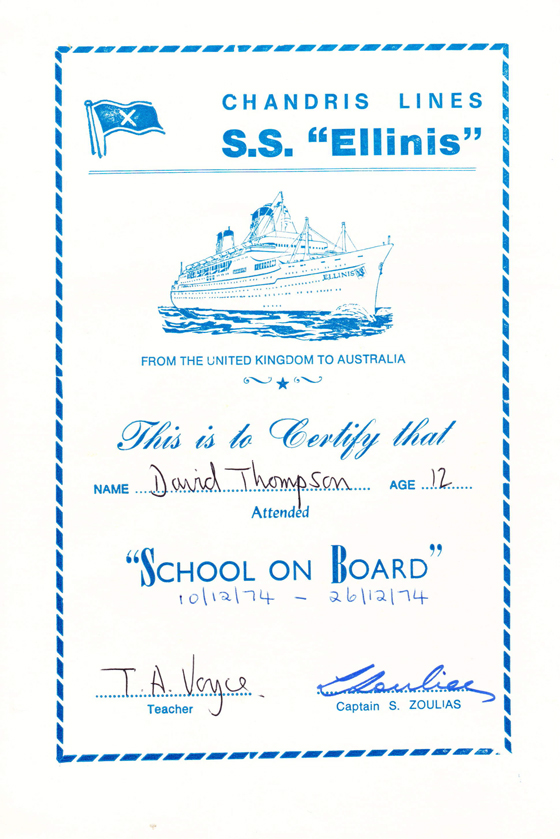 There were a few events that punctuate the journey. Stopping at each of the ports was very exciting as we got to leave the ship for the day. In Cape Town we took the cable car to the top of Table Mountain and while at Fremantle, our first steps in Australia, we went and had a look around Perth. There was also a ceremony with Neptune in attendance when we crossed the Equator on 11 December. We even celebrated Christmas and New Year's Eve at sea.
The highlight of the dinners was the night they dimmed the lights and served bombe alaska. I assume it was Christmas day at what they called the Farewell Dinner as we were a few days out of Fremantle. Both the adult and children's menu (below) has Ice Cream Olympic Flame for dessert. That must have been it!
Passengers were kept abreast of the comings and goings on board the Ellinis through the Seascape newsletter which was published daily at sea. It listed our position, En route to Las Palmas for example, the activities that day and any important announcements such as arrival procedures for a new port or a reminder to set our clocks forward as we sailed through the various timezones.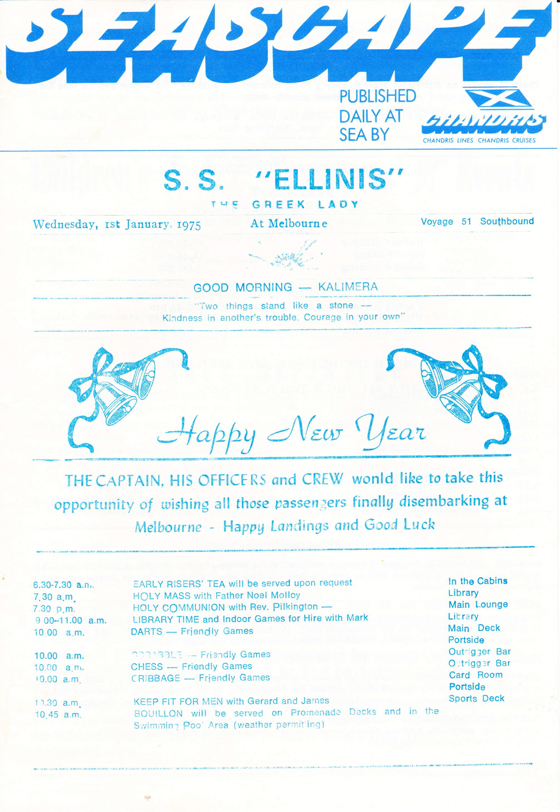 This edition of Seascape (above) from Wednesday 1 January 1975 marks our arrival in Melbourne and our last day on board the Ellinis. On an inside page, it indicates we were expected to arrive at the Pilot Station at 9.00 am and it was usually four hours between arrival at the Pilot Station and our final docking which would be at Outer East Station Pier.
It is a nice feeling that the Ellinis has a street named in her honour in Port Melbourne, even if it is a mews!
---
The Ellinis started life as the luxury liner Lurline with the Matson Line on the San Francisco – Hawaii service. It was launched in July 1932. During WWII, having narrowly evaded the Japanese bombing of Pearl Harbour, it was requisitioned by the US Navy and converted into a troop ship. After the war, and an extensive two-year refit, the Lurline returned to its previous route between the west coast of the US and Hawaii. Later it included South Pacific cruises.
In 1963 the Lurline suffered a serious engine failure and was purchased by the Greek shipping company Chandris Lines who repaired the engine, renamed her the Ellinis and sent her for a refit at Smith's Dock, North Shields, England. She left Piraeus, Greece for her first voyage to Australia on 30 December 1963. Subsequently she moved to the Southampton – Australia route and in the 1970s transported British Migrants to Australia. With many migrants choosing to fly rather than sail, the Ellinis made her last trip to Australia in 1977 and then spent six months offering cruises out of Sydney.
During her final decade of service, the Ellinis was back in Europe cruising the Mediterranean before finally being scrapped in Taiwan in 1987.
---
References
Churchward, M. (2016) RHMS Ellinis, Chandris Shipping Line, 1933-1987 in Museums Victoria Collections https://collections.museumsvictoria.com.au/articles/14861
Accessed December 3, 2020
Wikipedia contributors. Chandris Line. Wikipedia, The Free Encyclopedia. October 13, 2020, 22:18 UTC. Available at: https://en.wikipedia.org/w/index.php?title=Chandris_Line&oldid=983377524. Accessed December 3, 2020.