Norman Barry, well known dairyman in Port, was also a swimmer. He trained with the Port boys between the Piers. He swam in the 3 mile 'Race to Princes Bridge' in 1928 and finished in 1 hour, 40 minutes and 13 seconds.
He was awarded a certificate illustrated by Percy Lindsay from the famous Lindsay family.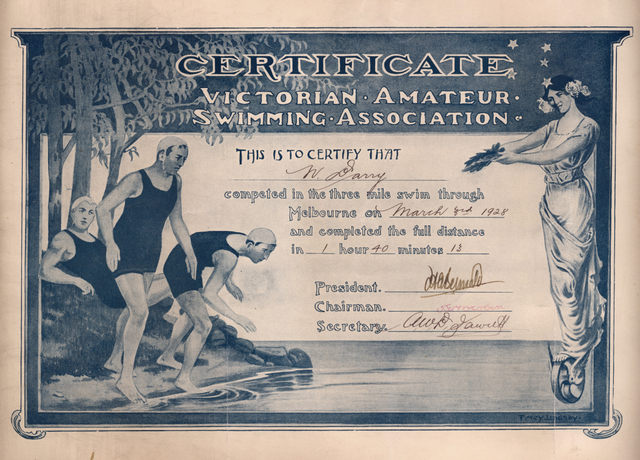 The swimming race was discontinued because of concerns about pollution.
There is renewed interest in reviving river swimming in Melbourne and around the world.
Thanks to Helen Barry for this story and the certificate
Sources and further information 
"Australia. A Swimming Contest 'Wholesale'. 549 of both sexes, compete in Annual 3 mile race in the Yarra River – one of Australia's most noted sporting events!" http://youtu.be/wfMpqBOs_F0
accessed 26 02 2015
emelbourne The City Past and Present Swimming and Diving   http://www.emelbourne.net.au/biogs/EM01457b.htm
Reviving the race on a cleaner Yarra River
http://www.theage.com.au/national/people/reviving-the-race-on-a-cleaner-yarra-river-20150220-13j6rs.html accessed 26 02 2015