A crazy, crowded green pub in Bay Street
Molly Blooms* was the place to be on St Patrick's Day in the 'nineties.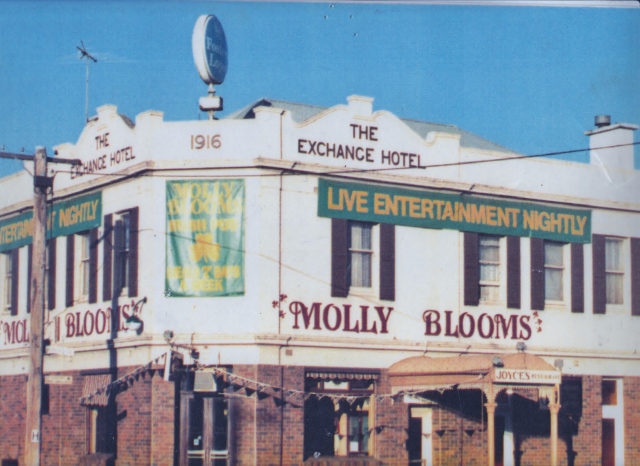 Transformed into a 'traditional' Irish pub in the late '80s with its Joyce's Restaurant, live Irish music, Guinness on tap and walls hung with Dublin memorabilia, it was one of the most popular Irish pubs in Melbourne.
So popular did it become that on St Patrick's Day Rouse St was closed to traffic to accommodate the huge crowds. It even rated a mention in the New York Times:
'Every year, Molly Bloom's in … Port Melbourne hosts a street party of spectacular proportions. "We expect more than 10,000 people this year," said the proprietor, Noel Murphy, and he has 150 kegs of Guinness ready to serve them at a bar that extends the length of Rouse Street. Traditional fare such as homemade beef and Guinness pies and Irish stew will also be on offer. Three popular Australian-Irish bands — The Celtic City Sons, The Ploughboys, and The Clares —- will play all day on the huge outdoor stage.'
Shane Jacobson's career has a Molly Blooms connection. As an event organiser for this huge St Patrick's Day Festival, he needed toilets for a crowd. That's how he got to know Glen Preusker, the owner of Splashdown Toilets. One thing led to another and then there was Kenny. Read more of the interview with Shane here.
But Molly Blooms also ignited an ongoing love for Irish music in Sue Foley who writes: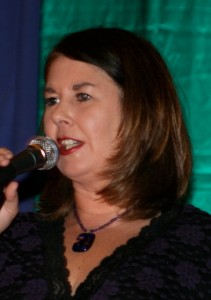 'Fate is a strange and wonderful thing. A chance invitation from a colleague to hear some music at a place called Molly Blooms was a life changing event for me. Having trained as an Opera singer for more than a decade, music had always been a part of my life but the music I heard in that crazy, crowded green pub in Bay Street awoke in me a passion for all things Celtic.
Twenty five years later I still perform at festivals and events with the female Celtic trio "Bhan Tre". Sadly Molly Blooms is no more – but the sentimental still reminisce about the music, the craic and the heady days when Molly's was the place to be.'
'Irresistible and inevitable', Molly Blooms was also the climactic end place for several peripatetic Bloomsday celebrations where actors … 'delivered some hair-raising and wicked material'. Gillian Hardy, former owner of the Stray Dog Bookshop in Bay St, both directed and acted in some of these events.
Rob Fairburn from the Loaded Dog band was sufficiently fond of the place to compose a song Remember Port Melbourne which you can listen to here.
*now (and formerly) The Exchange, 39 Bay St, Port Melbourne
References:
Seawrack and Seaspawn Port Melbourne 2001 http://www.bloomsdayinmelbourne.org.au/2001seawrack-and-seaspawn-port-melbourne/
Fairburn, R Remember Port Melbourne http://www.loadeddog.net.au/Loaded_Dog/Remember_Port_Melbourne.html
Grainger, P 2007 Chartered Scoundrels, Port Melbourne, Vic: Port Melbourne Historical and Preservation Society
Henly, S G 2000 Lift a green pint – Melbourne http://www.nytimes.com/2000/03/13/news/13iht-trqeire.t_10.html
Jacobson, S 2013 Shane Jacobson is flushed with success from The Long Road to Overnight Success http://www.adelaidenow.com.au/lifestyle/sa-lifestyle/shane-jacobson-is-flushed-with-success/story-fnizi7vf-1226686380519