Marking World Refugee Day 
Princes Pier, Port Melbourne was the point of arrival for the first refugees to Victoria after the Second World War
Arthur Calwell was Australia's first Minister for Immigration in the Chifley government. He drove the policy and its implementation. The sense of urgency is conveyed in this speech:
'without immigration the future of the Australia we know will be both uneasy and brief. As a nation we shall not survive'.
Australia entered an agreement with the International Refugee Organization (IRO)*, in July 1947 on the terms and conditions under which people would be accepted into Australia. The initial agreement for 1947 was for the acceptance of 4,000 refugees from camps in Europe.
A shortage of shipping was an obstacle. Calwell toured Britain and Europe in late 1947 to visit refugee camps, speed up selection procedures and organize shipping.
The first emigrants came from the Baltic states of Lithuania, Latvia and Estonia which had been occupied by the Soviet Union.
The first ship to arrive in Australia was the USAT General Stuart Heintzelman. It left Bremerhaven with 843 passengers on 30 October 1947 and reached Fremantle on 28 November 1947.
Four passengers were returned to Europe on the Heintzelman  when they were found to no longer meet Australia's health or security requirements.
The other passengers were transferred to the HMAS Kanimbla and arrived at the eastern berth of Princes Pier on 7 December 1947.
At Port Melbourne, they waited overnight on the Kanimbla before boarding two special trains which took them to inaugurate the Bonegilla Migrant Reception and Training Centre on 8 December 1947.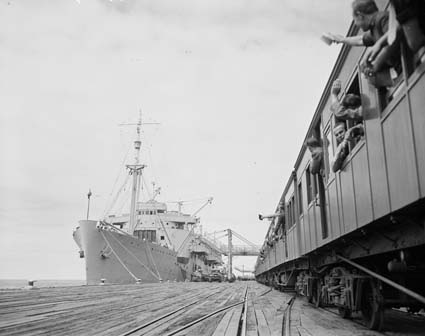 Between 1947 and 1953 Melbourne received 71 ships carrying refugees, representing 83,990 of the 170,000 displaced people who arrived in Australia , according to Tundern Smith.
The significance of this Australia shaping event is acknowledged by the records of those 170,000 people being placed on UNESCO's Memory of the World Register.
*The IRO was superseded by the Office of the United Nations High Commissioner for Refugees.
Sources and further information
To read the agreement entered into between the Commonwealth and the International Refugee Organisation in 1947, go to
http://www.info.dfat.gov.au/info/historical/HistDocs.nsf/vSearch/34DE11E5815C539DCA256B7E00810CB6?openDocument&start=1&Highlight=2,International,Refugee*&SearchOrder=4
Arthur Calwell address https://youtu.be/7G3YXkyjJDk
Displaced Persons Migrant Selection Documents 1947-1953
http://www.amw.org.au/register/listings/displaced-persons-migrant-selection-documents-1947-1953 viewed 19 June 2015
Freudenberg, G  Calwell, Arthur Augustus (1896–1973) Australian Dictionary of Biography http://adb.anu.edu.au/biography/calwell-arthur-augustus-9667 viewd 19 June 2015
Tundern-Smith, A  Fifth Fleet http://www.fifthfleet.net/index.html viewed 19 June 2015