Proud to be a Port girl, Part 1
Beverley Stephens (nee Dredge) remembers growing up in Port
Our family came to live at 82 Evans Street when Mum and Dad were struggling through the depression. Around the time I was due, Dad was trying to earn a living selling Jelly Crystals door to door – and anything else he could sell. They were living at that time in the house three doors up, a weatherboard with only one bedroom. Mum heard that no 82 was being let so she signed the rental agreement and started moving furniture in before Dad came home that night. It was a done deal!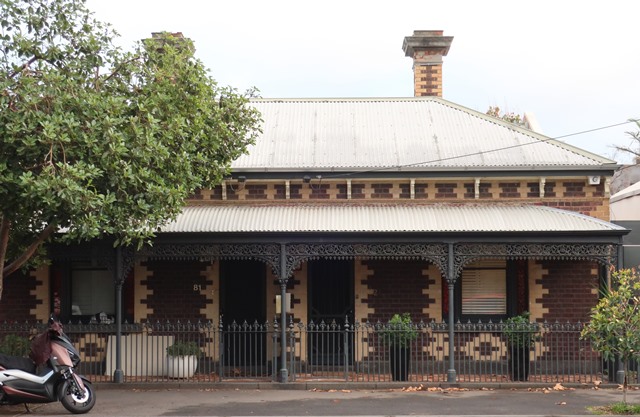 When I was born in 1940 I already had two older brothers – Bill and Alan, and one brother who had died. My Mother died when I was three years old. My Dad had the formidable task of rearing two boys and a baby girl in a world of depression with little or no work available.
Dad got work as a "Milkie", going to work at midnight to deliver milk with his horse and cart. He often spoke of his horse as nearly human. It was as if the horse could read the notes left out in the top of the empty bottles.
Nanna Dredge
Nanna Dredge lived in Ross Street. Nanna's house had a 'lean to' kitchen out the back of the house. The laneway from our back gate was only three back gates away from her house. I could run from our back gate through the lane and up Nanna's path to her kitchen in about two minutes flat. Nanna Dredge was a rather large woman with bandages wrapped around her legs so that her varicose veins did not hurt too much.
Also at Nanna's house were Uncle Jim, Uncle Ernie and her bedridden husband, Pop Dredge. They had made the front porch into a sort of bedroom for Pop with a bed and a canvas roller blind that kept out the cold. I think he must have died early in my childhood because that is all I remember of him. Uncle Jim was suffering from war neurosis. He was good fun when he was alright, but he slept a lot when he was in one of his depressed moods. Uncle Jim used to hide under his bed at any given time! Uncle Ernie was a whippet of a fellow, very lean, not very tall. He was a solitary fellow, not given much to conversation.
Nanna was my only contact with a woman in my early childhood. She was always there to climb on her knee if she was sitting in her big chair! She had a good supply of bandages for skinned knees. She always had something on the stove – a stew, roast lamb or soup, and we were always welcome to eat at her table. Because Nott St State School was so close by, Alan and I could go home to Nanna's to a hot meal every lunch time. Dad's work as a milkman meant that he got to bed when we went to school. He would sleep until we came home after school and then cook our tea, do the dishes, get our clothes ready for the next day, sit in the lounge with us until bedtime and then go off to work the milkman's hours of midnight to dawn. Nanna and the Uncles were there if we needed them!
Nanna Dredge would take us to the pictures at the Port Picture Theatre once a week. We would walk down to Bay Street, and maybe, just maybe, we would buy one or two chocolates from the homemade Chocolate Shop. There will never be any match for the chocolate shop in Bay Street in the 1940's & 50's. You could watch the master of confectionery swirling his chocolate over an almond, or peppermint, or orange sweet and taste the flavour long before you could purchase this confection. I think that you bought them by the number, like 'I'll have two orange creams and one peppermint please!' Then we would go across the street to the Port Theatre, and watch the news reels, the cartoons, usually Mickey Mouse, and then the main feature – stories that would make you wonder if there was a world out there that you would ever know, ever touch, because of your circumstances in life.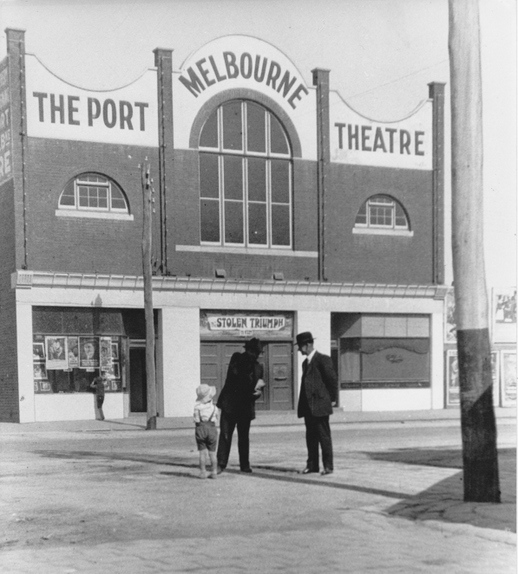 Life around Evans St
Once when Dad took me to a footy final at the Port ground, there was the biggest melee of all times! I think Port were playing Williamstown. We were standing behind the goal posts at the Williamstown Road end. Dad was holding my hand and saying 'stay with me and you will be alright'. There was mayhem! The spectators! The police! Dad was concerned with getting me out of there. People were running across Williamstown Road, into front yards, through back yards, over fences.
And then there was Mrs Crichton, the local kindergarten teacher, who lived in the house on the corner of Evans Street and Farrell Street. Was she as old as I remember? You could bet your last penny that that house was haunted! There were gables and dead trees in the grounds. The house itself was a grey two-storey Victorian. There were shutters on the windows that flapped in the wind, and the lady herself could have stepped out of an 1800's photo. Not only did she wear severe black, but her petticoat was always showing beneath her long dress. She always had her hair in a bun and she kind of shuffled as she walked the children to kindergarten.
Is it my imagination or memory? Did she tie the kids together with a rope? Or maybe she passed it between them as she collected them from their respective homes, and marched them all the way to the kinder in Graham Street. She held an annual event – The Wedding Ceremony! There was a groom, about four years old, and a bride of the same vintage, with numerous bridesmaids and groomsmen. The rest of the class and Mums and Dads were there to witness this bizarre event.
Two up games were held across the road from our house about once a week. Sometimes my Dad would win but most times not. I think, on reflection, that it was his game and he just held it elsewhere for safety reasons. He loved the race horses and often went to the races on Saturdays.
Tragedy in the family
One day I was on my way into Nanna's house via the back gate when I saw the glass window at the top of the lean-to was orange with flames. I was twelve years old. I ran screaming back to Dad who was sleeping. He and Uncle Ernie tried to put out the flames and they tried to go into the burning house to save Nanna and Uncle Jim, but it was not to be.
There was an inquest after the fire. It appears, though not confirmed, that Nanna died from severe head wounds and was subsequently burnt in the fire. Uncle Jim died of burns. Both Dad and Ernie testified that Uncle Jim loved his Mum but as he had just gone through a suicide attempt on himself, who really knows.
Both Dad and my Uncle Bill lost their wives in childbirth at about the same time. After the tragedy of the fire and having lost their wives, they decided to pool their resources and bring up their two girls together.
Next month: Part 2
Explore this block in History of a Street Precinct (the precinct bounded by Evans, Bridge, Farrell and Williamstown Road)
Nanna Dredge (nee Jane Simpkins) married Oliver Dennis Dredge on 24 October 1903. They had eight children, one of whom was Harold Joseph Dredge who married Mary Murphy. Beverley is their daughter.