Margaret Bride writes:
Are there any secrets in your family? Do you even know whether or not there are any? We are all aware that many families have their mythologies, based sometimes on fact, but myths never the less. Families pass on their stories from one generation to the next. Many of us were brought up from a young age listening to the stories told us by our grandparents, aunts, cousins and uncle. We rarely queried the truth of these accounts even if we suspected a little embroidery of the bare facts.
My family is no exception, although I am inclined to think that the degree of difference between what I was told and the truth is greater than average.
I was told by my mother, by her mother and by her brother how their grandfather Benjamin Bellion and his brother came out from Cornwall to Victoria soon after the discovery of gold in 1850. They went to Guildford near Castlemaine where my great-grandfather set up a general store, married and had several sons and at least one daughter. By the mid 1860s the alluvial gold was declining and demand for their services declined also.
They packed up and came to Port Melbourne where they built a two-storied wooden shop in Stokes Street, a shop that is still standing as testimony to the truth of their story. As a child I was fascinated by all the stories I heard about life in Port Melbourne and I had no doubts about any of the details I was given.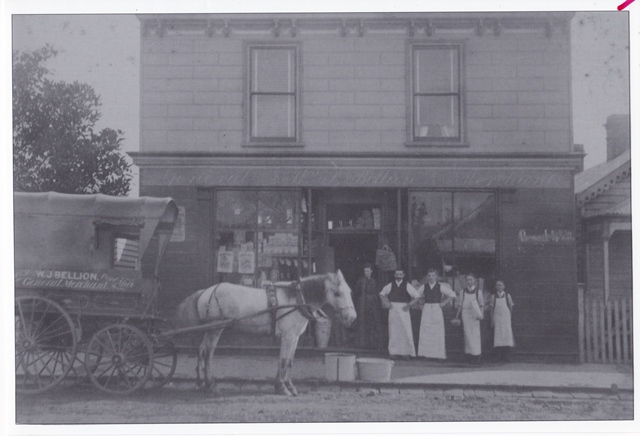 What was my surprise, when reading the diaries of John Pascoe Fawkner, to read about a Captain James Bellion whose ship the Endeavour was trading between Launceston and Corio in 1839. Full of curiousity about James Bellion and wondering if he was any relation, I consulted the registrations of births, marriages and deaths in Hobart and discovered that James Bellion, a qualified ship's master, arrived in Van Dieman's Land in 1843 with a wife and two sons, one of whom was Benjamin. Further investigations have revealed that this Benjamin was none other than my great-grandfather who had supposedly arrived in Melbourne from Cornwall in about 1854.
I was puzzled to explain why the family story had hidden these plain facts about events so long ago.
I think subsequent research has probably revealed the explanation. Captain James Belllion's first wife Martha died in Launceston in 1859 and within a short time he married Mary Stanforth. His son Benjamin immediately left for Victoria and preferred to let his descendants believe he had comedirect from Cornwall even though he had in fact been married in Launceston and perhaps already had one son at the time.
In the family story, as told to Benjamin's children and grandchildren, it was as if Captain James Bellion of Launceston had never existed.
What secrets have been kept in your family?
You may also like these other articles Margaret Bride has written about the Bellion family