When the Housing Commission of Victoria built a new estate at Fishermans Bend, open space was a critical part of the health oriented design. Although the roads were named, the open space reserves were not named at the time.
In the seventies, or thereabouts, the Reserve was named for Ray Julier. Here is Ray with his wife Lil (formerly Keyhoe) at the newly named R F Julier Reserve with Gellibrand Road in the background.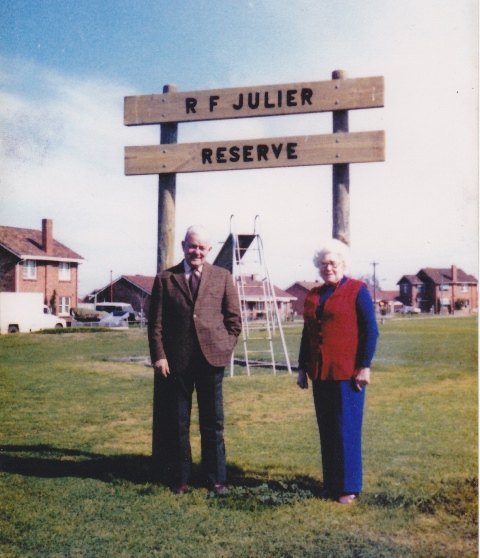 Ray Julier had a long and distinguished career with the Port Melbourne Football Club. He made his debut with the senior team in 1932 and went on to play 166 games in a war interrupted career that ended in 1945. Small of stature, he played most of his football on the wing. He experienced the highs and lows of the Club as it progressed from an also ran in the early and mid thirties until it became a force again in the late thirties. He was a member of two premiership teams, in 1940 and 1941. He later spent many years as a trainer with the Richmond Football Club.
Julier was elected to the Port Melbourne Council in 1962. He represented the Sandridge ward for almost 30 years. He served as Mayor in 1965/66 and again in 1968/69.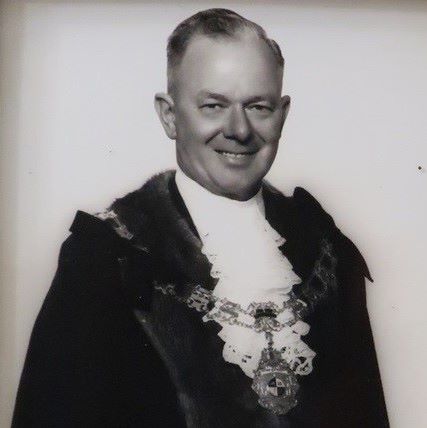 Ray Julier died on 4 September 2007 aged 96. The floral tribute at his funeral was half the red and blue of Port and half the Richmond colours.
The Julier family have continued a very strong association with football in Port. Ray's son Peter visited the recently refurbished Julier Reserve.
This is just a start to prompt further details and memories. If you played on, or had an association with Julier Reserve, either before or after it was so named, we'd love to hear from you.
Thanks to Peter Julier and Terry Keenan for their assistance in preparing this article.