Port's Stawell Gift Winner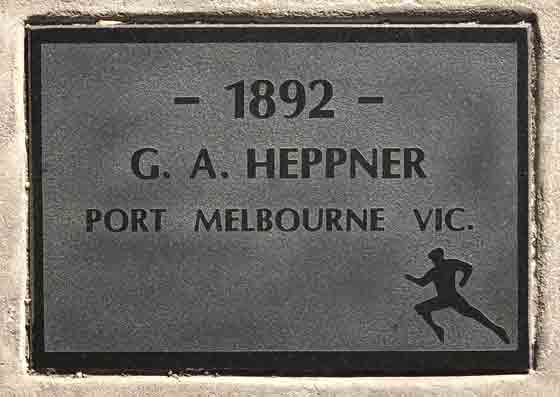 At very regular intervals along the footpaths of Main Street, Stawell there are small plaques recognising the winners of the Stawell Gift going back to 1878 like the one above featuring G A Heppner from Port Melbourne who won in 1892.
Gustav (sometimes Gustave) Adolph Heppner was born in Adelaide, South Australia on 24 October 1865 but within a few years the family had moved to the area around Albury in New South Wales. By the late 1880s, Heppner was competing in professional handicap foot races throughout south-east Australia and in 1889 he starting running under the name Alf Heppner. This led to a protest against him for 'running under the wrong name and had sent an incorrect list of his performances' 1 during a meeting at Goornong. The protest was upheld and Heppner was disqualified from his heat and replaced in the subsequent race. This would not be the last time Heppner would be accused of submitting incorrect performances as we will see during the 1892 Stawell Gift carnival.
The following information is taken from the Stawell Gift Almanac by Gary Watt 2.
Twenty-four men contested the eight first round of heats for the 1892 Stawell Gift on Saturday, April 16. The backmarkers were F C Ezzy (Surry Hills, NSW) and A E Roberts (Parramatta, NSW) off 6½ yards although Heppner and a runner named William Moore from Parramatta, NSW were the pre-heat favourites to make the final.
Heppner and Moore ran in the same heat, the fastest heat of the day, with Heppner winning off 12 yards in 11⅞ seconds. Moore protested that Heppner had sent in wrong performances but it was dismissed by Stewards later that evening.
Four second round heats were held on Monday, April 18 with Heppner winning his heat in 12 seconds and proceeding to the final as 4/6 odds on favourite. His opponents in the final were D McPherson, A E Roberts and F C Ezzy.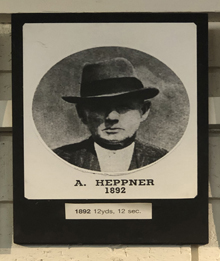 In the final Heppner quickly caught McPherson and then held off a fast-finishing Roberts to cross the line 6″ ahead in a time of 12 seconds. Ezzy came in third.
Image (right): Heppner's photograph on display at the Stawell Gift Hall of Fame.
McPherson lodged protests against all three place getters. He alleged that both Heppner and Roberts had supplied incorrect performances on their entry forms and that Ezzy hadn't named a scratchman in a recent performance. The stewards deferred the protest against Heppner for one week but dismissed those against Roberts and Ezzy.
One week later the Stawell Athletic Committee met at Julian's Albion Hotel in Stawell, dismissing the protest and awarding first place to Heppner.
Heppner continued to race for many years to come including competing off 20 yards in 1918 which set a record as the most liberally handicapped runner in the history of the Gift. In his final appearance in the Gift, in 1923, he was unplaced in his heat and at 57 years old was possibly the oldest competitor in the Gift.
Heppner wasn't finished with the Stawell Easter Carnival though. In 1927, at 61, he competed in the 75 yards sprint finishing a distant last off 19 yards. He also competed at one carnival in the 1920s with his son Bernard.
Member, Ray Jelley has researched Heppner's family life which we have shared on the Society's website.
Alf Heppner and Jessie Isabella Sherman had two sons, William Bernard (1894) and Walter Gordon (1897) although the couple were not married until 1899. Both boys signed up for WWI in 1916. Unfortunately, Walter was killed in action in France on 9 August 1918 3.
We have not been able to find definitive information regarding Heppner's connection with Port Melbourne. Records indicate that Jessie's mother lived in South Melbourne so it fits that he was in the Port in 1892 around the time he met Jessie.
If you have any information regarding the Heppner or Sherman families in Port Melbourne in the 1890s we'd love to hear from you.
References
1 1889 'THE GOORNONG SPORTS.', Bendigo Advertiser (Vic. : 1855 – 1918), 31 October, p. 2. , viewed 27 Apr 2020, http://nla.gov.au/nla.news-article88890637
2 Watt, G, 2008. Stawell Gift Almanac. Ringwood North, Vic.: Legacy Books.
3 Jelley, R, April 2020. Gustav Aldolph (Alf) Heppner (1865 – 1958), https://www.pmhps.org.au/?p=6203