by David Radcliffe
Legon Street is one of those tiny streets in Port Melbourne tucked away off the main thoroughfares, not easy to find and doubtless a bane in the life of delivery drivers and removalists. It is a dead end street with relatively narrow entrances off Dow and Graham Streets.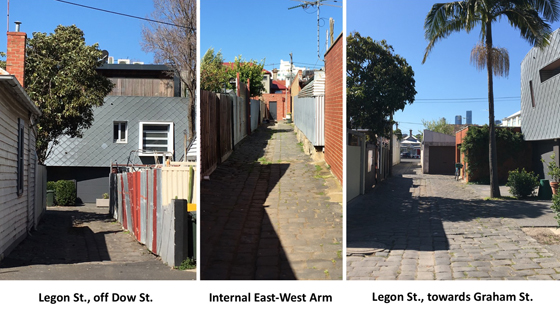 When the land bounded by Graham, Dow and Rouse Streets and Esplanade West (block 6) was first subdivided for sale, no provision made to access the rear of deep allotments in the upper portion. Originally the lower portion of this block had been reserved for a fish market and a naval brigade.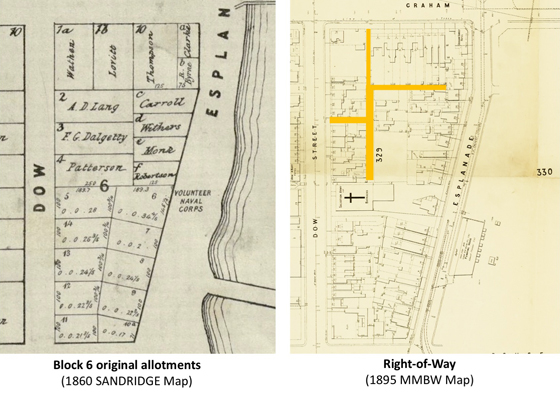 A variety of mostly wooden dwellings were erected with frontages along the four streets. By the 1870s, a number of houses were listed as being "off Dow St." especially on allotment 2, meaning they were towards the rear of the allotment, behind those with street frontage. In the last 1880s, the Council built a right-of-way to service these internal parts in the upper portion of block 6. 
By 1910, this access way was referred to as Legon Lane. The name Legon Place was also used at times and on some occasions different parts of the roadway went by different names. It became Legon Street around 1945.
The name derives from the long association of James Legon and his family with the area. They lived in a brick house at 98 Dow Street and at the time of his death in 1916, he owned a large swath of property, mostly off the right-of-way where the row of modern houses now stand. While his property portfolio enabled him to be a man of independent means in his later years, James Legon was a boatman throughout his working life.
He was born in London around 1829, where his father was also a waterman moving cargo on the Thames. It is not clear when James arrived in Australia but while plying his trade in Geelong in 1858, he married Johanna McMahon from County Clare. The couple moved to Port Melbourne around 1860 and purchased a two room wooden house on Heath Street near Boundary Street. In 1865, he sought rate relief from the Council due to his "having being suddenly reduced to a state of poverty, owing to having lost a vessel and cargo of wood during the recent severe storms."[i]
James and Johanna and their six children moved much closer to the waterfront, staying in a series of rented houses in Dow Street near Beach. James was now working as the mail boatman. By 1871 they were living in block 6, in 1883 they owned the house at 98 Dow and by 1885 he no longer needed to work. 
Boatmen, also called waterman, provided many essential transport services as depicted in this illustration from 1885. In the hectic decades following the initial gold rush, Hobson's Bay off Port Melbourne would have seen countless waterman like James Legon contributing to the vibrant trade and commerce. Legon Street is a reminder of those bustling days that put the Port in Port Melbourne.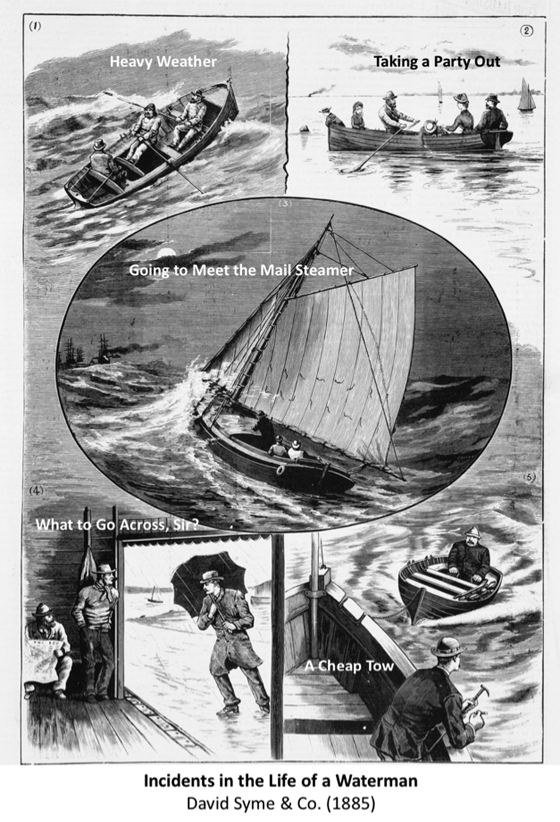 ---
[i] Age, 2 June, 1865, p6. http://nla.gov.au/nla.news-article155029696