LIardet? or Lee-ar-day? There may be some uncertainty over the pronunciation but anyone living in Port Melbourne would know this street running between Pickles St to the east and Princes St to the west. Liardet St has two quite different characters: heavily trafficked east of Bay St and quietly residential west of Bay St.
Liardet St is named after Wilbraham Frederick Evelyn Liardet. Liardet and his wife (also his cousin) Caroline arrived in the bay on the William Metcalfe on 14 November 1839 with their nine children. Liardet was 40 at the time. Having erected the sturdy tents 'made for pioneering', Wilbraham left Caroline and their near adult son Frank on the beach and continued on the William Metcalfe to Sydney where he had an introduction to Governor Bourke. (Remember that what was to become Victoria was governed from Sydney at that time and this area was generally known as the Port Phillip District).
Liardet returned in December. He soon began a number of enterprises. He used a whaling boat to carry mail from ships anchored in the Bay to Melbourne. With his sons (and others, one assumes?) he formalised a track that was to become Bay St through the tea tree and established a hotel on the beach. The Brighton Pier hotel was legendary for its hospitality and the range of services and activities it offered. The extravagance of the offer and his poor financial management sent him broke.
Unable to afford the land on which he had squatted when it was offered for sale, Liardet was severely affected by the 1840s depression and sought other ways to make a living. Caroline and the younger children returned to England for several years.
The words flamboyant, extravagant and larger than life are often used to describe Liardet. He was a great conversationalist and raconteur as well as an artist.
His 1862 painting View of the North Shore was recently acquired by the State Library of Victoria after being privately held since it was painted. It shows a post gold rush picture of Hobsons Bay crowded with shipping of all kinds.
In the 1870s, he produced 40 paintings telling the early history of the colony of Victoria. The paintings are embroidered with memory and nostalgia but provide a valuable insight into early life of the colony. Of particular interest to Port Melbourne people is his pink tinged depiction of those heyday years of the Pier Hotel.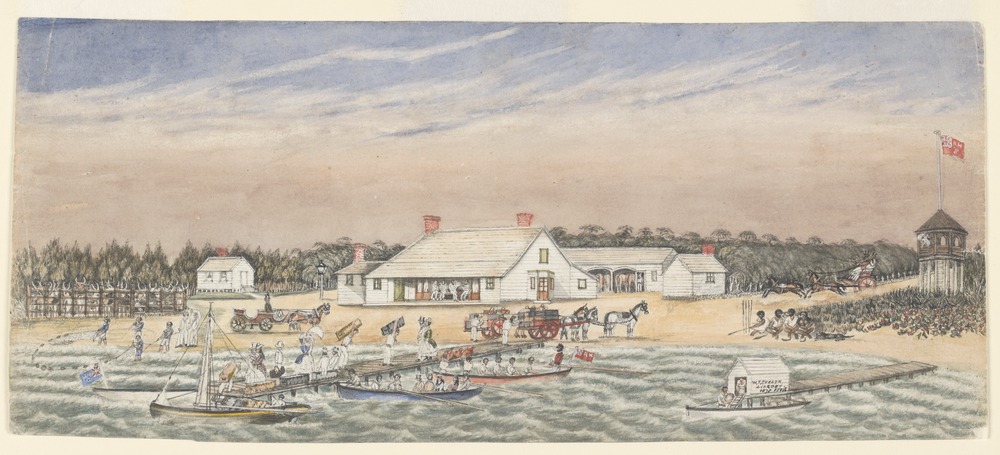 Whereas there are several accounts of the life of W.F.E. Liardet, less is known of the nature and character of Caroline. Two portraits of Caroline show her as a very young and as an older woman. Descendant and artist Pamela Horsley has imagined her in those years she spent on what became known as Liardet's beach.
Liardet St was named early, in 1853. Since there was no municipal government at this time, it suggests it was named by the government and that Liardet's contribution was recognised in his lifetime.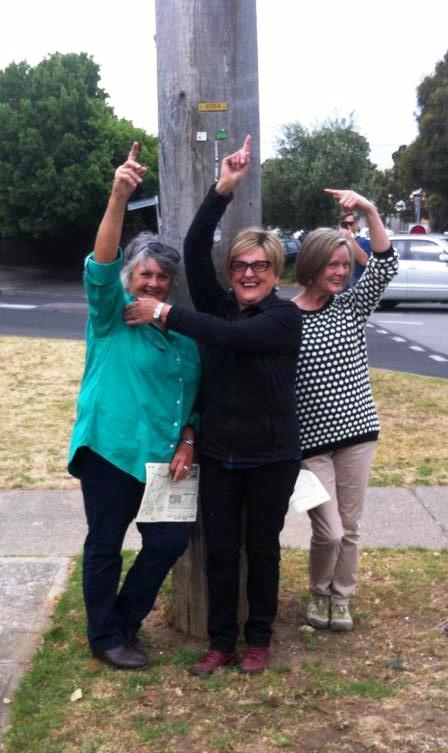 This year, Liardet St had a make over. Thirty one new trees, Corymbia eximia, were planted along the length of the median between Pickles and Bay St and a pedestrian crossing was installed between Edwards Park and Bubup Womindjeka children's centre. A coincidence perhaps, but appropriate that this street named after Port Melbourne's most notable early settler should be marked in this way on the 180th anniversary of his arrival.
Read more about the Liardet family
Michael Hiscock Wilbraham Frederick Liardet Romantic Visionary of the Beach 1839 – 1862 The La Trobe Journal No 54 March 1995
Janine Rizzetti W.F.E Liardet and the documenting of history The Resident Judge of Port Phillip July 16 2008
Liardet's water-colours of early Melbourne / introduction and captions by Susan Adams, edited by Weston Bate is available from the City of Port Phillip library service.
Visit The Creative Liardets – an exhibition showcasing the creative legacy of the Liardet descendants. Thursday 14 November to 1 December at the Port Melbourne Town Hall 8.30 to 6.00 Monday to Friday 10 to 2 on Saturdays.