In the days before supermarkets and large shopping centres the people of Port Melbourne and other inner suburbs shopped every day at small local shops located cheek by jowl amongst their own houses.
One such shop was located on the corner of Esplanade East and Spring Street East.
PMHPS has a digital copy of a photograph album compiled by descendants of the Nugent family who owned the shop in the early decades of the 20th century and it and other local shops are included in David Radcliffe's recently published book, Changing Fortunes: Ebb and Flow of People and Place in a Pocket in Port Melbourne.
In the 1890s the shop was owned by Michael Quinn, publican of the nearby Council Club Hotel which he built in 1874. The former pub, at the corner of Bay Street and Spring Street East, is currently occupied by Cayzer Real Estate but still prominently bears the Quinn name. Michael Quinn served two seperate terms on the local council from August 1877 to August 1886 and then from October 1888 until his death in November 1898. He was mayor in 1879-80.
In the years when the shop was owned by Quinn there was a succession of tenants running their business from the premises as was the case with many similar shops in the area. Around 1904, the shop was sold by Quinn's estate to Bridget Nugent who ran it as a grocers for the next twenty-four years. The Council Club Hotel was also sold at this time to James McCormack, son of Thomas McCormack who founded the Cricketers Arms Hotel in Cruikshank Street.
Bridget Nugent was born in 1853 in Waterford, Ireland. She was a dairy maid before she emigrated to New Zealand with he brother, Patrick, and two other siblings in 1877. Later, she and Patrick came to Melbourne where two older sisters, Ellen and Margaret, had emigrated in 1870. Her sister Mary also migrated to Australia and her father, Patrick Nugent Snr, also came to Melbourne.
Bridget and her brother, Patrick, owned the shop which was then numbered 283 Esplanade East and the house next door at 285 which was rented out.
Patrick died in 1921 and Bridget continued to run the shop until 1928 when she moved to Richmond, renting out the shop to Lawrence Frisby who continued the grocery business. William O'Callaghan, a lawyer, took over the shop in 1934 and it was run by his wife, Alice Wilhelmina O'Callaghan until the early 1960s.
Bridget Nugent died in 1939.
By the 1990s, the shop had been converted into a residence and had been renumbered as 42 Spring Street East.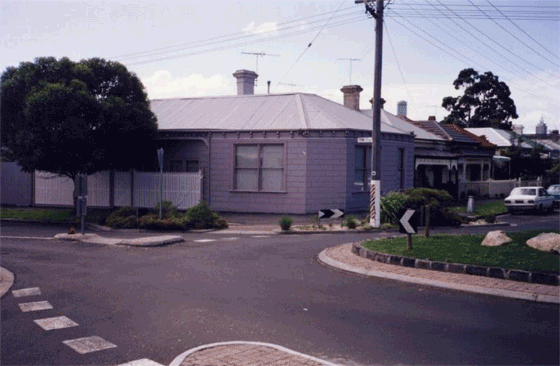 Today the old shop has been painted white with a dark trim but is still recognisable as Miss Nugent's shop. The telegraph pole is still there as is the tree in Spring Street East and the rocks in centre of the roundabout.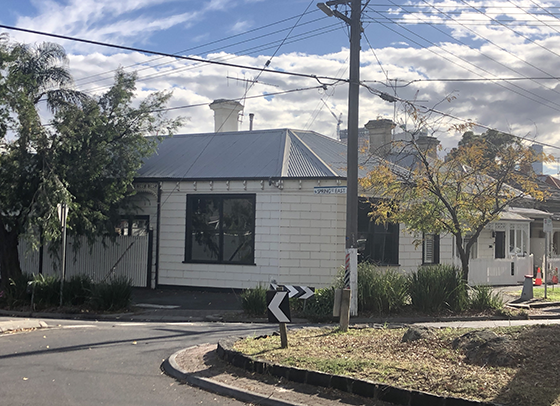 ---
Bibliography
Radcliffe, D., 2021. Changing Fortunes Changing Fortunes: Ebb and Flow of People and Place in a Pocket in Port Melbourne. Blackburn: PenFolk Publishing, p.178.
Grainger, P., 2007. Chartered Scoundrels: A brief history of Port Melbourne hotels. Port Melbourne: Port Melbourne Historical & Preservation Society, p.46.
U'Ren, N. and Turnbull, N., 1983. A History of Port Melbourne. Melbourne: Oxford University Press, pp.273, 280.