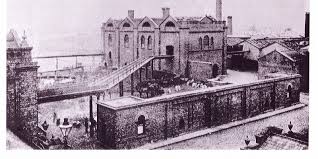 It is one of Port's often told stories – how people 'knocked off' coal from the trucks taking coal to the Gasworks from Town Pier at the end of Bay Street.
Emily Lock remembered
"The different cargoes were a source of wonder. Some of them brought coal for the Gasworks. It was a dirty job unloading the coal into small trucks. These were coupled together, about six at a time, and pulled by a horse along rails  that ran from alongside the ships, along Beach Street, around Harpers Factory, along the side of the Lagoon to Rouse Street and on to the Gasworks. Dozens of these trains were pulled back and forth during the day and it was common for the lads in the area to throw stones at the horses as they plodded along. The main in charge of the horse rode on the first truck, on top of the coal, and he replied by throwing lumps of coal at the lads, who gathered them into bags brought for the purpose and took them home for the family fire."
Flo Beazley recalled
"I used to take the pram to the Gasworks to pick up coal. I'd carry a broomstick to knock the coal off the back of the truck, even when I was tiny."
Domestic gas appliances were were far too expensive for lower income families and many landlords chose not to connect to them. The cost of gas itself was also too high and the system of monthly repayments a discouragement. Many people continued to use open fires for warmth and cooking.
Sources 
Grainger, P ed (1991) They Can Carry Me Out – Memories of Port Melbourne Vintage Port Worth Preserving