Signalling the Quarters for over 70 years: The PMFC's Timekeepers' Bell
From 1878, this 30cm. 14 Kg red bell was rung by the match timekeepers to signal the end of each quarter of a football game at Port Melbourne Oval. For the fiercely loyal and parochial Borough supporters, the final ringing at each game was of either joy or sorrow; dependent of course, as to whether Port had won or lost.
The bell was hung in different places through its early years. Following the burning down of the old grandstand, the bell was hung in front of the press box, which stood atop the visitors changing rooms next to the new grandstand from the late 1920's. The accompanying 1947 photograph clearly shows the press box in the background. Technology finally saw the bell pensioned off in favour of the new siren in the early 1950s.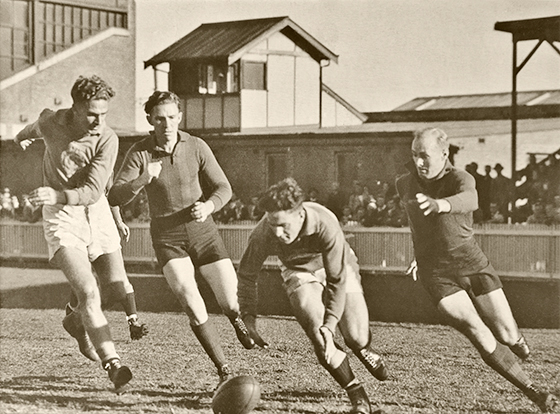 In his book 'A Taste of Port' Terry Keenan relates a story about the bell from 1913, during a match between Port and Northcote: Protocol dictated that the visiting timekeeper had the privilege of ringing the bell. Deep into time on in the final quarter, Northcote led by three points and Port was attacking strongly. Believing time had run out, the Northcote timekeeper went to signal the end of the game, only to have his wrist grabbed by the Port timekeeper, who vehemently protested that fifteen seconds still remained. A tussle in the press box ensued, whilst out on the ground, Port continued attacking, albeit ineffectively. Eventually, the Northcote man managed to free an arm from the struggle and the bell emitted a sufficient signal for the Northcote team to flee the field, with Port, hoping it was a mistake, left standing. Despite the wrestle adding two minutes to the game, Port lost.
In 2012, Port Melbourne Football Club lodged the bell with The Society for safekeeping. It remains the property of the Football Club and a weighty item of our collection.