Remembering the Westgate Bridge disaster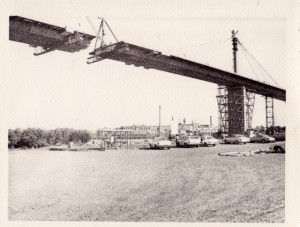 On 15 October, people will gather at a memorial at the Westgate Bridge to honour 35 workers who were killed when a 120-metre span of the bridge collapsed on that day in 1970. Another 18 were injured, with many crippled for life.
The day before Victoria's worst industrial accident, a worker, hearing creaks in the structure, commented: "She must be having growing pains".
 At 11.50am the following day, a section of the bridge collapsed and fell almost 50 metres to the ground.
In a deposition of a witness, a boilermaker's assistant, said: "… I was half-way down the scaffold to touch the floor plate to go for lunch when the span I was standing in slowly started to sink down … I held on to the scaffold and it seemed like 12 seconds until the span crashed into the river".
A retired farmer, eating his lunch at the public viewing area at the time of the collapse, said in a statement: "I just gazed across the bridge between the two piers, and all of a sudden … on the north side of the bridge I saw the bridge starting to subside, then on the south side in the middle section I saw the bridge subsiding".
The whole 2000-tonne mass plummeted into the Yarra mud with an explosion of gas, dust and mangled metal that shook buildings hundreds of metres away. Homes were spattered with flying mud. The roar of the impact, the explosion and the fire that followed could be heard more than two kilometers away.
A Royal Commission to investigate the cause of the collapse attributed the failure to a litany of errors in the structural design and method of erection of the bridge. The Commission's findings paved the way for the strengthening of occupational health and safety laws in Australian workplaces.
The commemoration will begin at 11.30 am on 15 October at the Memorial on the west side of the Bridge
Sources 
Disaster at West Gate: the West Gate Bridge Collapse of 1970 
The West Gate Bridge Memorial www.westgatebridge.org