IRVINE, a house at 42 Beach Street, was built in 1922 for Eli and Christina Edwards. 'Only best quality material' was used in the construction of the house which was carefully chosen with a clear view of Station Pier, Williamstown and the Port Melbourne Yacht Club. Eli, better known as Dick, was a farrier and a great yachtsman.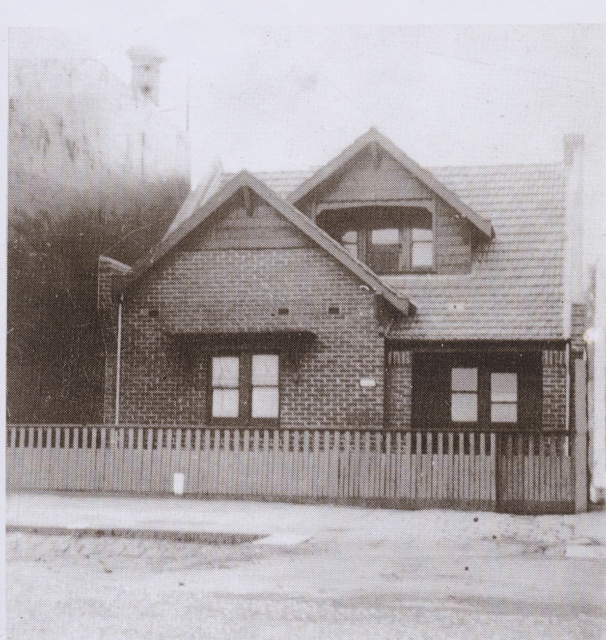 Christina was born an Irvine. Her father was a mine owner in Gympie, Queensland. Andrew Fisher, then a miner but later to become Prime Minister of Australia, was a boarder with the family. That is where he met and later married Christina's sister, Margaret.
Christina and Dick were married in 1913 in the Fisher's family home in Hughenden St, East St Kilda.
Fisher's legacy is topical in this Anzac year, as he was Prime Minister in 1914 when Australia first committed troops to the First World War.
Notes
Irvine was demolished in 2003. The apartment development Orama now occupies this site.
This post was prompted by news of the passing of Jan MacDonald who wrote extensively about her family in Port Melbourne. You can read Jan's short evocative pieces, memories of living in Irvine in the 1940s and 50s, in Salt on the Windows.
Sources
Macdonald, J C (2005) Women of Port Melbourne: Guide to the Exhibition Port Melbourne Historical and Preservation Society
More on Andrew Fisher
Andrew Fisher was Labor Prime Minister of Australia three times from 13 November 1908 to 2 June 1909, 29 April 1910 to 24 June 1913 and 17 September 1914 to 27 October 1915
Amongst his many notable achievements were the establishment of the Commonwealth Bank of Australia, and setting up the Royal Australian Navy
Murphy, D J (1981) Fisher, Andrew (1862 – 1928) Australian Dictionary of Biography Volume 8
Day, David (2007) The last man: the making of Andrew Fisher and the Australian Labor Party, National Museum of Australia