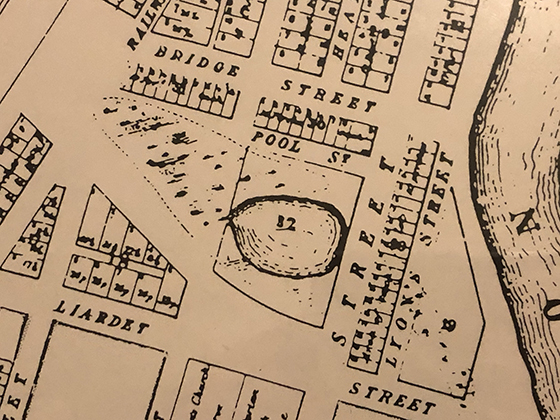 The early growth of Sandridge had to take into account several swampy areas, pools and, of course, the lagoon. From the 1855 Plan of the Township of Sandridge (above) where the lagoon is shown on the right, it is self-evident that Pool Street took its name from the rather large, circular pool that sat beside Bay Street.
Despite this, the first time Pool Street appears in the Sands & McDougall Directories in 1867 it is misspelt Poole Steet. Although there was a barber called Ralph Poole operating in early Sandridge it is unlikely that he gave his name to the street.
The pool appears to have been filled in by the end of 1860. The map below by the Department of Lands and Survey from November that year shows the outline of an elongated swampy lagoon but the land along Bay Street has been subdivided into blocks including a large block marked as a 'Proposed Reserve for Drain'. There is no reserve in Bay Street in this area but the former Post Office, now Domino's Pizza, sits on a large block around that location. The other points of interest on this 1860 map are the two ornamental reserves.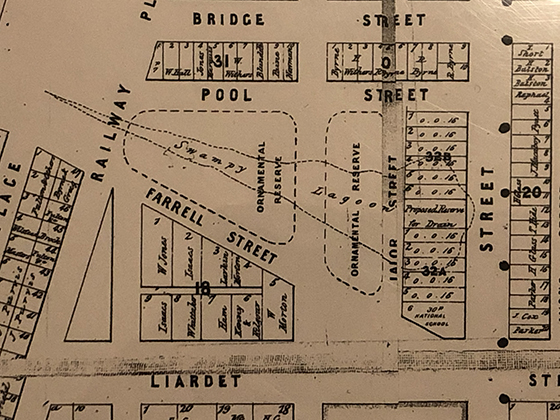 The first residents of Pool Street appear in the 1867 Sands & McDougall Directory. W Boothroyd, Thomas Callow and Neil Blue lived between Railway Place and Nott Street, presumably at the back of the blocks facing Bridge Street. The names change from year to year with some disappearing only to reappear several years later however one constant is William Boothroyd.
William Boothroyd, son of a farmer, was a master wheelwright from Yorkshire, England. He came to Australia in 1854 on the Oliver Lang with his younger brother Edward. He married Ellen Clayton and had a number of children including William (1860), Ellen (1862), George (1864), Hannah (1868), Thomas (1870) and Emma (1873).
William died around 1887 and Ellen continued to live in Pool Street until 1899.
Another long term resident of Pool Street, Anthony O'Neale, appears in the 1873 Sands & McDougall Directory, the year before Nott Street State School opened on the larger of the ornamental reserves.
Anthony O'Neale was a painter from Ireland. He was born in Dublin in 1808 and married Mary Ann Bolton from New Jersey around 1841. Between 1842 and 1860 they had 9 children. Mary Ann (I), who died in infancy; Anthony Edward; Mary Ann (II); Mary Jane; Abina Ellen; Frederick John (I), who also died in infancy, Fredrick John (II), who was born in Sandridge and Anna, who was also born in Sandridge.
We know the family sailed for Australia in late 1854 as the first child named Frederick John was born in October 1854 in Ireland but died in Melbourne on 26 January 1855.
The family lived in Pool Street between Nott and Bay Streets and Anthony died there on 18 April 1881. Mary Ann died at 75 Esplanade East on 5 August 1898 but was still listed as living in Pool Street in 1897.
Pool Street was included as part of the works that Council borrowed money to undertake in 1893. The cross section (below) from the plans for the works shows how the street was constructed. Overall the street is 66 feet wide with a central 'made' section 24 feet wide sloping off to bluestone gutters for drainage.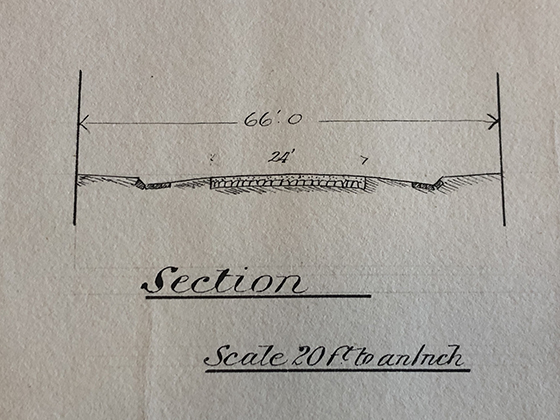 The final map (below) from December 1963 was drafted by G S Williams the City Engineer in Port Melbourne. It shows Nott Street State School sitting on one of the former ornamental reserves with the other reserve now taken up by commercial buildings and houses facing Nott and Labor Streets. It is also clear from this map that the Post Office is located where there was the proposed reserve for a drain.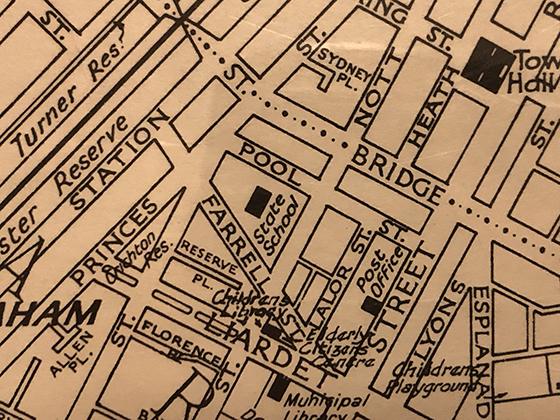 There is no evidence in modern-day Port Melbourne that this area had a pool or a swampy lagoon but the reminder is still there in the Pool Street name.
Resources
A History of Port Melbourne, Nancy U'Ren and Noel Turnbull, Oxford University Press, Melbourne, 1983
Sands & McDougall Directories 1864-1900
PMHPS Collection, including the Port People database with additional research by Ray Jelley.