WWII Air Raid Precautions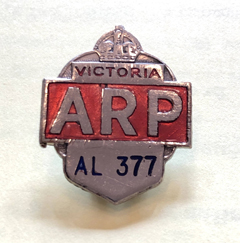 PMHPS has a small number ARP lapel badges in the collection (right).  They serve as a reminder that while WWI was mostly fought in far-off Europe, during WWII there was a very real danger that air raids could strike Australia and that the ARP played an important role in preparing the civilian population for such attacks.
The Commonwealth Government determined the need for Air Raid Precautions in the early years of the war but the details were left to the individual states to implement.  In Victoria, it fell on the State Emergency Council for Civil Defence to organise the ARP.
Sir John Harris, KBE, MLC, Minister of Public Instruction and Public Health was the chairman of the State Emergency Council for Civil Defence. He outlined the need for air raid precautions and the plans to protect the public in the foreword to a booklet providing advice to householders from April 1941.
"As part of the plan for the protection of the people, district wardens have been appointed for every municipality which may be regarded as being within a vulnerable area.  The work of the district warden is specifically to organise all the necessary measures and personnel requisite for the protection of the people in the municipality under his charge. This organisation has been for a considerable time in course of establishment and in many districts has reached an advanced stage. …
Although these local plans are progressing, it must be stressed that it is not possible for the district warden and his staff themselves to accomplish everything.  There is so much citizens can do which no one else can do for them to help protect themselves and their families.
To complete the organisation that will in time of emergency operate for the protection and help of citizens, young and old, volunteers to the number of 20,000 are still required in the metropolitan area and elsewhere in the various municipalities taking air raid precautions. Therefore I appeal for 20,000 volunteers, both men and women – the men to be over 40 years of age (35, if married) or ineligible for military service – to call at the municipal offices and enrol without delay."
Reg Macey's father, Reg Macey Snr worked as a Fire Protection Engineer at Wormald Brothers in Williamstown Road and so was an ideal choice as an ARP Warden for the area around Buckhurst Street in Montague where he lived.  One of his tasks was to distribute and explain the previously mentioned Air Raid Precautions – Advice to Householders booklet, (see photo below).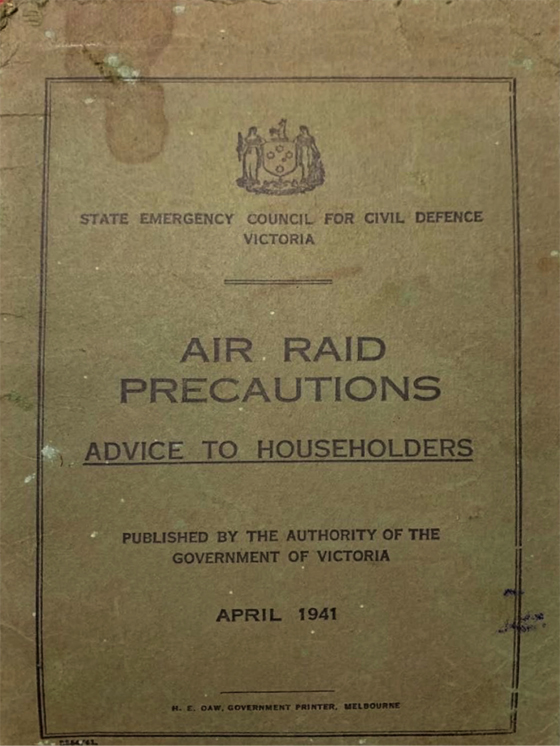 The booklet included, among other things, information about reducing light emitting from buildings and vehicles that may be spotted by enemy aircraft, explanations of the various warning signals and instructions for building shelters.  
One page includes a diagram (below) showing the Relative Risks of Air Raids under Varying Conditions of Shelter with standing in the street the most dangerous and being in an approved shelter the safest.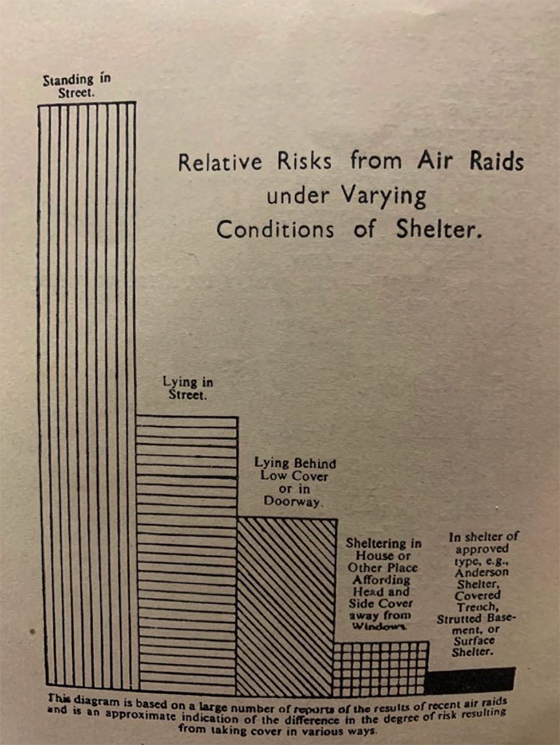 Reg Snr also delivered applications for Identity Cards and assisted people to complete them or acted as a witness in many cases. ID Cards were required to be carried whenever a person was away from home and had to be shown on demand, to any person authorised by law to see it.
Wardens also compiled information about their specific area.  The list below for a section Osborne St, Williamstown is typical of the information gathered.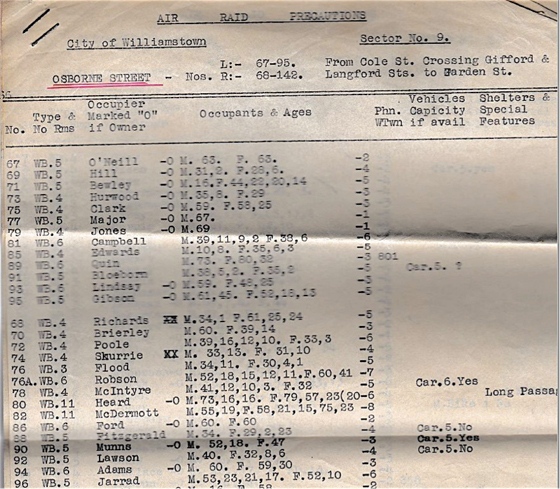 Reg Jnr has vivid memories of his father demonstrating how to handle a fire caused by a bombing attack.
"The demonstration was in the middle of the road in Buckhurst Street, about where WA Cross' transport business operated. It was on a Sunday, late afternoon. My Dad walked along the street, with his Warden's hat on and his ARP armband (with me, his proud 5 year old son in tow), blowing his special Warden whistle. Some bits of timber from a house demolition site were placed on the road, lit, and the demo proceeded. Dad had previously brought out from our home at number 157 a filled sand bucket, and the special double action stirrup pump with a bucket filled with water."
This 1941 film Fire Fighting Demonstration for Civilians by British Pathé shows how the pump and sand bucket were used. (Video: Fire Fighting Demonstration for Civilians)
Reg Jnr continues, "The date would have been early 1942, not very long after the Japanese spy plane flew over our home. We lived in a closely packed group of timber homes, very volatile fuel for an incendiary bomb. When we moved to a less volatile area later that year in the Housing Commission Estate in Garden City or Bagdad as the locals called it, Dad no longer needed to be a Warden because there were already Wardens in place. As in our new home we had a big back yard, within a very short time we had our own air raid shelter. There was a large community air raid shelter built immediately outside our home in Howe Parade, but Dad preferred to build one just for us … to leave more room in the larger shelter for others, he said."
"After we moved to Bagdad, as he was no longer a Warden, Dad had to return anything he had not paid for … thus the only thing he kept were the double action pump and buckets.  We left them at the house in Howe Parade when we sold it in 1994 … I wonder if they are still in the shed there?"
---
PMHPS is very appreciative of Reg Macey for sharing his knowledge of the Air Raid Precautions during WWI and his father's role as a Warden.