The Closing of Faram Bros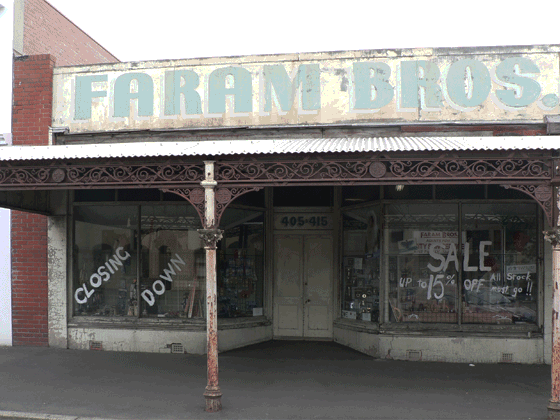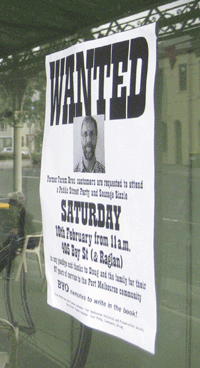 Early in 2007 Wanted posters featuring Doug Faram appeared in the Borough. Faram Bros Hardware store in Bay Street was closing and former customers were invited to a Street Party and Sausage Sizzle to be held at 11am on Saturday, 10 February to say goodbye and thanks to Doug and the family for their 87 years of service to the Port Melbourne community.
Importantly the poster requested people BYO memories to write in the book that would be presented to Doug at the event.
The party was organised through the efforts of Ernie Weston and other Faram Bros customers, the Bay Street Traders Association and PMHPS with support from Coles supermarket and the City of Port Phillip Community Group's Street Party Project.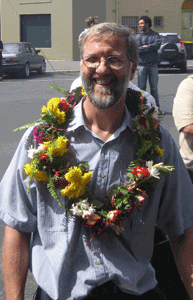 Despite the sadness of the closure of this Port Melbourne icon, the event was a party with lots of great memories shared, plenty of sausages to go around and a three-piece band to provide the entertainment. Rather than his usual work dust coat, Doug, no doubt against his wishes, wore a floral lei.
With the party in full swing, the sound of bagpipes emerged from deep within the old shop and as people gathered around, a lone piper emerged from the doorway in full regalia.
The piper came from the City of Melbourne Highland Pipe Band who have their origins as the pipe band of the South and Port Melbourne Thistle Society in the years leading up to and during WWI. His attendance was organised through the connection of the Derham family to the pipe band, a name also long associated with Port.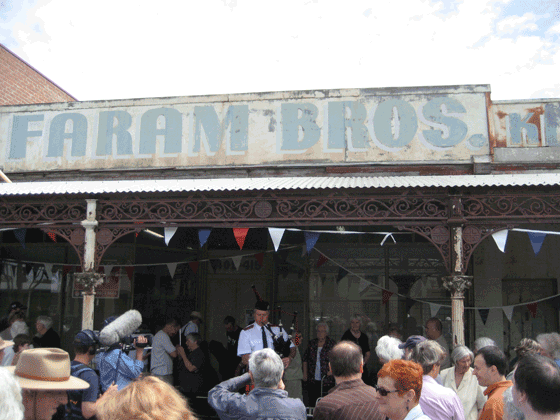 A few brief speeches followed and then everyone was requested to gather for a group photograph to mark the occasion.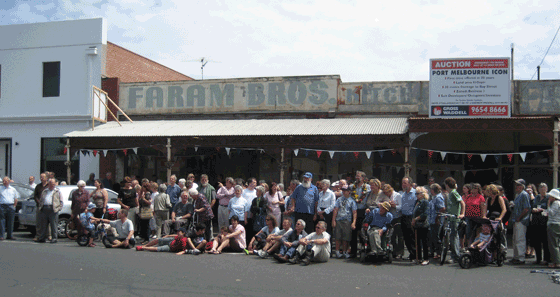 The final days of Faram Bros were beautifully captured in Kevin Anderson's film The Last of the Independents.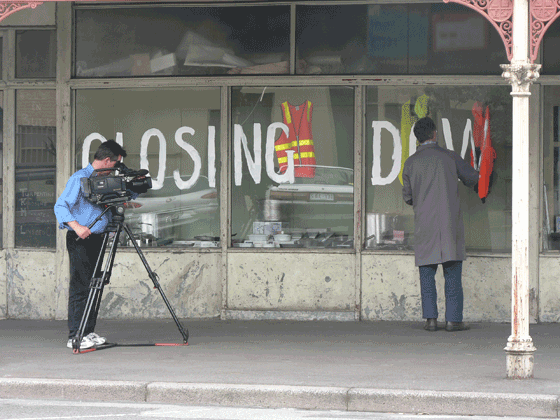 The property was auctioned at noon on Wednesday 7 March 2007 and became an art print and framing shop for a while before the bulk of the store was demolished in February 2011 leaving the restored façade and verandah to form part of the medical centre that replaced it. During 2020 part of the new building was used as a COVID-19 Testing Centre.
All images in this story were taken by David Thompson and form part of the Port Melbourne Historical and Preservation Society's Collection