Now and Then 2021 – Lagoon Reserve
Lagoon Reserve is a popular place for dogs and their owners to meet up especially in the late afternoon. The reserve is lined on its eastern side by the Park Apartments and across Graham Street by the Portside Apartments. Both art deco inspired designs were developed by Becton Pty Ltd during the late 1990s and early 2000s.
As the name suggests, this pleasant reserve was once a lagoon, possibly a former mouth of the Yarra. Once part of a pristine ecosystem, the state of Sandridge Lagoon steadily deteriorated following settlement and development of local industries. It became a collecting place for every possible type of waste, both liquid and solid. While it was regularly flushed out by periodic floods, the aroma emanating from the lagoon was overwhelming, especially on summer evenings. For decades, its future was a topic of vigorous local debate, the so called "Lagoon Question".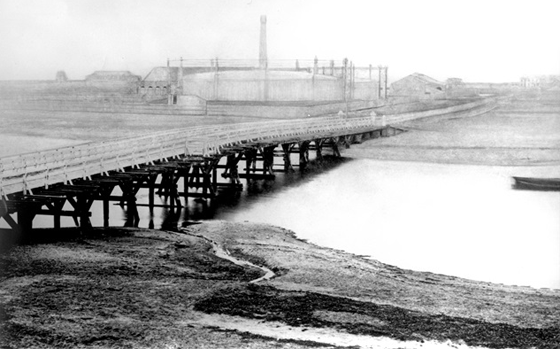 Notwithstanding that the Lagoon had become a sewer, hope sprung eternal that it would one day become a grand harbour. This pipe dream was finally quashed when the lower part of the Lagoon, from Bridge St. to Rouse St. was filled in during the 1890s. Initially it was thought that the cost of this could be offset by selling off the reclaimed land for housing. However, the future of the land that is now Lagoon Reserve was debated up until 1934 when the government proclaimed it a permanent reserve.

For a century, the view across the reserve was framed by two gasometers, part of the South Melbourne Gasworks which is now Gasworks Park. On Easter Sunday 1920, the larger of the two gasometers (corner of Graham and Pickles Streets) burst into flames and collapsed. It was rebuilt and gasometers remained until the 1980s.

As a sporting ground, Lagoon Reserve has nurtured many of generations youngsters. Cricket and football are still played there to this day. Another constant is the Graham Hotel which was built on the western edge of the lagoon in 1872 near the footbridge. After many transformations, it still stands proudly across from the southwest corner of Lagoon Reserve.
This article is based on one of the panels that formed the Now and Then Exhibition of the Port Melbourne Historical & Preservation Society in 2021. The original panel can be seen here.
108 Bay Street: Bianca Apartments | Now and Then 2021 | Bertie Street