In 2016, Janet Bolitho wrote about Archibald Todd, State President and Federal Vice-President of the Timber Workers' Union, Port Melbourne Councillor and Mayor, and Member of the Victorian State Parliament so it's no secret that Todd Road is named in his honour.
Todd Road does not appear on the Port Melbourne landscape until the 1970s but what was there before that?
I have been told that Todd Road basically followed the line of one of the runways on Fisherman's Bend so I set out to find some proof.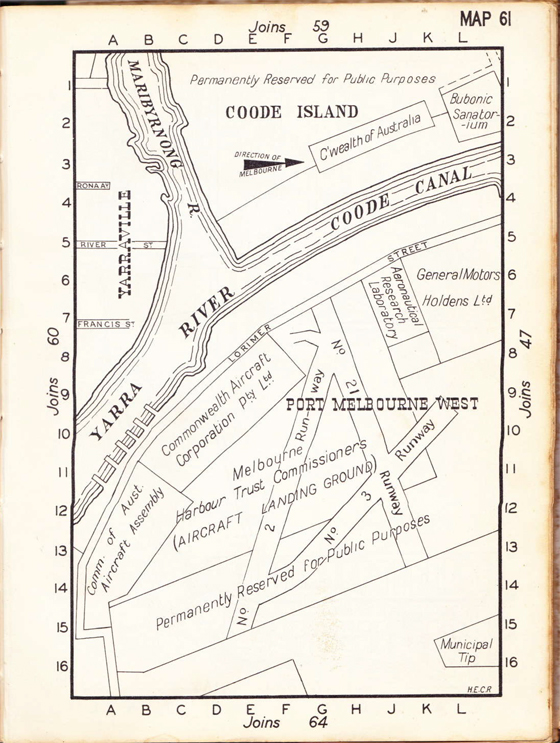 The map (above) from the 3rd Edition of Robinson's Street Directory of Melbourne and Suburbs probably from the 1950s shows the Melbourne Harbour Trust Commissioners (Aircraft Landing Ground) with what is identified as No 21 Runway where you would expect Todd Road to be. [I suspect this is actually No 1 runway as it makes sense to have the three runways numbered 1, 2 & 3.]
By the mid 1960s with Edition 1 of Melway's Street Directory of Greater Melbourne showing the runways had became part of the Commonwealth Aircraft Corporation and that remained the case for the rest of the decade.
Then Edition 4 of Melway's Street Directory of Greater Melbourne from 1970 gave me the answer. As you can see from the map sections below, the 1970 edition shows the runways with an as yet to be named, Todd Road, superimposed on top.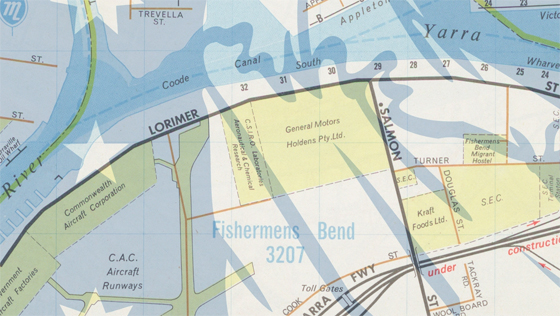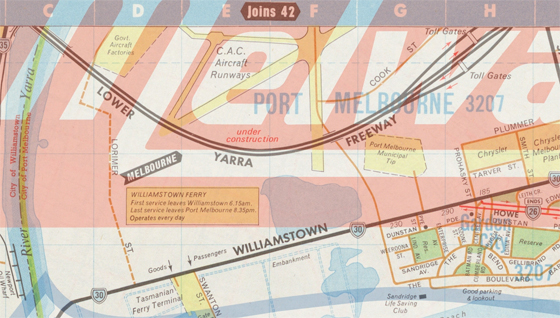 Map 56 shows Todd Road diverting away from the runway just before passing under the Lower Yarra Freeway (West Gate Freeway under construction) and on across Williamstown Road to meet The Boulevard.
By Edition 5 of Melway's (1971-72) the runways are gone and the road is identified as Todd Road. The timing corresponds with Archie Todd's retirement from State Parliament in 1970. Todd subsequently re-elected to Port Melbourne on 30 September 1972 serving until August 1976.
In the 21st Century, Todd Road gives access to and from West Gate Freeway as well as Melbourne Grammar Edwin Flack Sports Fields, Webb Dock, Westgate Park, Melbourne International Kart Raceway, the Herald-Sun printing complex and on to the light industrial area off the lower reaches of Lorimer Street. The runways are long gone and the aircraft factories are mostly gone but when we pass along Todd Road, we can think of the runways that were once here and imagine the aircraft manufacturing history of the area.
References
'MR TODD', PMHPS Website, J Bolitho, viewed 26 May 2020, https://www.pmhps.org.au/2016/07/mr-todd/
Robinson's Street Directory of Melbourne and Suburbs, 3rd Edition
'MELBOURNE STREET DIRECTORIES', University of Melbourne Library, viewed 26 May 2020,
https://digitised-collections.unimelb.edu.au/handle/11343/23