William Darke and Sandridge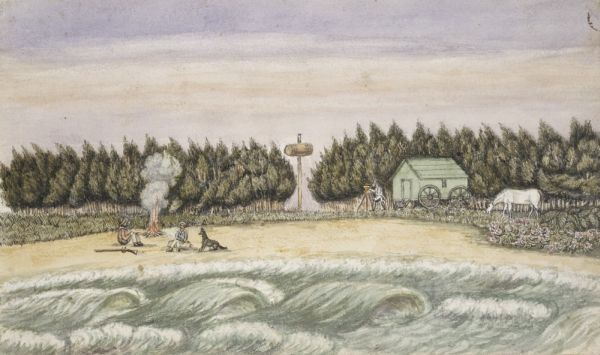 William Darke gave the name Sandridge to the area now known as Port Melbourne. He was one of three surveyors sent by Governor Bourke in 1836 to survey the shore of Port Phillip Bay and plot the course of the Yarra River. The name described the 'mile upon mile of sand dunes' that were a defining feature of the foreshore.
Liardet painted this charming picture full of interesting detail of Darke at work.
Examine it closely and you can see the familiar picture of a surveyor at work outside the caravan home. It was said that he even had a cottage piano in this quaint dwelling. 1
Where did all that sand go? To build Melbourne. Sandridge sand became part of the fabric of the brick and masonry buildings built through the 1850s. So much sand was removed that in time Sandridge actually became quite devoid of sand and the landscape became severely degraded.2
Sand carters took the sand away, leaving many great holes that filled with stagnant water. In Turnbull and U'Ren's words 'Whereas Sandridge had always been flat, it was never quite as flatly flat as it is today' from all the sand that was taken away.3
Removal of stabilising vegetation, including the tea tree shown in the painting, led to ongoing issues with sand drift and wind blown sand. The errant practices of sand carters dominated the Council agenda for many years.
Sandridge became the formal name of the Municipal District on 11 July 1860, and was associated with the Sandridge Ward in the City of Port Phillip.4
Now the name Sandridge will apply to a new precinct of the Fishermans Bend Urban Renewal Area – a name dislocated from its original context.
Sources
1 Liardet's watercolours of early Melbourne: introduction and captions Susan Adams edited by Weston Bate on line at the State Library of Victoria
2 The Fisherfolk of Fishermans Bend Allan Meiers
3 A History of Port Melbourne Nancy U'Ren and Noel Turnbull
4 postscript: The Sandridge Ward was subsumed into the larger Gateway Ward following an electoral representation review conducted in 2015. The first election under the new arrangement was on 22 October, 2018.